Pocketbook for Vets 2nd Edition
---
by Sheldon Middleton, February, 2019, FileType: PDF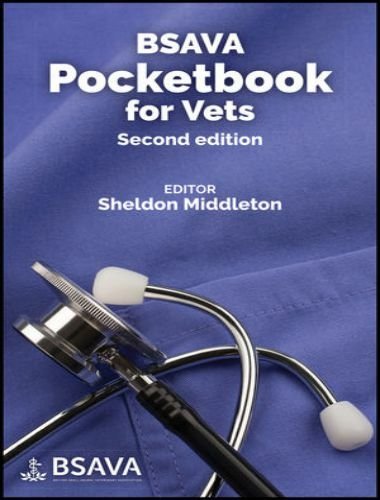 This popular pocketbook for vets has been fully updated with additional quick reference emergency information. It provides the new (and possibly the not so new) veterinary graduate with a handy guide to the important drugs, tests and procedures most commonly encountered in small animal practice. It pulls together information from the BSAVA Small Animal Formulary, Manuals and other sources, and is intended to be a quick glance reference that can be carried in a scrub top pocket for ease of use when consulting or during ward rounds. Notes pages are provided throughout.
The small animal general practitioner is frequently required to recall and act upon knowledge spanning the veterinary discipline, from dermatology and haematology to neurology and exotics, all within a morning's consults. The Goliath texts of the practice library are often less accessible during a full afternoon of appointments or a busy solo night shift, and therefore this is precisely the setting in which the latest initiative aims to provide support.
Get More: Manual of Reptiles 3rd edition
The range of topics in the book Pocketbook for Vets 2nd Edition covered is broad and targets the most common presentations, drugs and protocols; from the Modified Glasgow Coma Scale to biological data of hamsters. There are inevitable omissions as it would be impossible to include information pertinent to every practitioner whilst keeping the book lightweight. Therefore ample space is designated for notes throughout, allowing the user to add topics which are relevant to their experience and working environment. This personalization significantly adds to the book's versatility and practical
application.
The book is organised alphabetically, which at first feels quite haphazard, with an algorithm for CPCR nestled between doses of Carbimazole and Carprofen, but in practice where the priority is speed of accessing a particular nugget of information, this system is ideal. There is a brief index of drug trade/generic names to aid midnight trawls through pharmacy shelves, but the alphabetical arrangement otherwise negates the need for a bulky index.
Cleve ruse of tables, algorithms and diagrams allows information to be presented in a compact and clear manner, whilst comprehensive referencing of sources facilitates further reading where necessary. As is acknowledged in the preface, the pocketbook does not attempt to replace the practice library, but to complement it.
Direct Link For Paid Membership: –