A Veterinary Guide to Goat Health and Welfare
---
 by David Harwood 
August 2019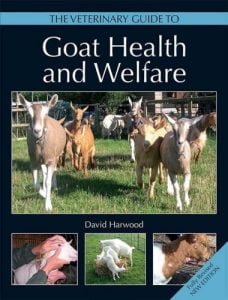 Guide for Goat diseases and Welfare, This clearly written, well illustrated book follows this maxim and is an invaluable, practical reference covering prevention, symptoms and treatments of all goat diseases. The book Veterinary Guide to Goat Health and Welfare is easy to read and easy to understand. Chapters include feeding and management, reproduction, prevention is better than a cure, problems encountered in young kids and much more.
The author David Harwood is an experienced veterinary surgeon and acknowledged expert in goat medicine. Provides pointers as to when a vet needs to be called or consulted. Useful appendixes include a glossary of terms and a list of notifiable goat diseases and typical nutritional values.
Goats are adaptable creatures in the wild but, if kept as pets, or commercially farmed, they rely very heavily on their owners not only for food, water and shelter, but also for protection from disease or injury. This second edition has been extensively updated to include more information on current issues such as antimicrobial and anthelmintic resistance, herd health planning, and new and emerging or changing conditions such as bovine TB.
The book begins by considering normal goat behaviour, in particular with a view to recognizing early signs of ill health often manifested by subtle behavioural changes. The value of becoming a good stock person is the key to success, and this is a constant theme. Normal goat activity such as feeding and nutrition is considered, and how goats adapt to management change associated with housing, grazing and so on. Signs of ill health are discussed in general terms to give the reader some further pointers to recognize signs of disease, and the remaining chapters then consider each of the major organ systems, and the health and welfare problems that can arise.
Get More: [PDF] Sheep, Goat, and Cervid Medicine 3rd Edition
Veterinary Guide to Goat Health and Welfare is a clearly written, well-illustrated book and should be an invaluable, practical reference work aimed at all those who own, or care for, goats whether they be commercial goat farmers, smallholders, stock people, veterinary surgeons and students. It is written by an experienced veterinary surgeon, and its overall objective is to provide some practical advice on managing goats daily including tips on how to keep them fit and healthy, how to recognise signs of ill health, and when a veterinary surgeon needs to be consulted. Password: VGGHAWRE+PDFLibrary.Net