Small Animal Orthopedics, Rheumatology and Musculoskeletal Disorders: Self-Assessment Color Review 2nd Edition. The original version of the Self-Assessment Color Review of Small Animal Orthopedics was published in 1998.
Small Animal Orthopedics, Rheumatology and Musculoskeletal Disorders: Self-Assessment Color Review 2nd Edition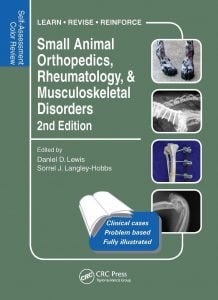 The practice of small animal orthopedics has advanced consider ably in the 15 years that have transpired since that initial volume went to press. Advanced diagnostic imaging and minimally invasive orthopedic surgery were in their infancy and formal development of the disciplines of canine sports medicine and rehabilitative therapy were only taking root. Diagnostic procedures, instrumentation, implant systems, and surgical techniques for the treatment of orthopedic disorders in the dog and cat have changed and advanced considerably in the new millennium.
Building on the precedent established in the late 20th century, continued experimental and clinical research has expanded our understanding of bone and fracture biology, musculoskeletal tumor development and treatment, and the pathophysiology and management of arthropathies, and new interests were founded with regard to non-surgical rehabilitative therapies. This new expanded text has been designed to keep pace with the rapidly expanding practice of small animal orthopedics while embracing the developing fields of canine sports medicine and rehabilitative medicine.
As with the original version, this book is not intended to be an all-encompassing, comprehensive text reviewing every facet of small animal orthopedics. This book is one in a series of self-assessment guides designed to facilitate active learning by presenting selected clinical case scenarios or applied research material. The clinical practice of all aspects of veterinary medicine is a balance of science, art, experience, and judgement. The reader may give a different answer to individual questions to those provided in this text.
The contributors and editors have made a conscientious effort to make the information in this book as current and accurate as possible; however, the reader should be cognizant that appropriate alternative answers to many questions, particularly clinical case scenarios, exist. Our intent was to provide an illustrative, self-directed educational tool containing current information of value to veterinary students, interns and residents in training, and general and specialist small animal practitioners with specific interests in orthopedics, canine sports medicine, and rehabilitative medicine. In response to feedback relating to the original version, references have been provided for each question to allow the reader the opportunity to delve more into the topic by reading the referenced journal articles if they so desire.
Direct Link For Paid Membership: –
Direct Link For Free Membership: –
| | |
| --- | --- |
| Book Name:  | Small Animal Orthopedics, Rheumatology and Musculoskeletal Disorders 2nd Edition |
| File Size:  | 284 MB |
| File Format:  | PDF |
| Download Link:  | Click Here |
| Password: | PDFLibrary.Net (if Required) |