Clinical Guide to Fish Medicine 1st Edition
---
by Catherine Hadfield, Leigh Clayton, Published 2021, FileType: PDF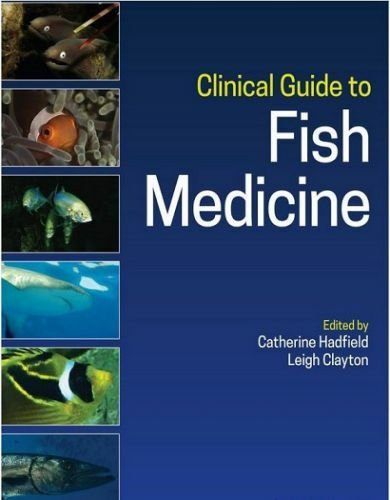 Designed as a practical resource, Clinical Guide to Fish Medicine provides an evidence-based approach to the veterinary care of fish. This guide—written and edited by experts in the field—contains essential information on husbandry, diagnostics, and case management of bony and cartilaginous fish.
This important resource:
Provides clinically relevant information on topics such as anatomy, water quality, life-support systems, nutrition, behavioral training, clinical examination, clinical pathology, diagnostic imaging, necropsy techniques, anesthesia and analgesia, surgery, medical treatment, and transport
Describes common presenting problems of fish, including possible differentials and practical approaches
Reviews key information on non-infectious and infectious diseases of fish in a concise format that is easily accessible in a clinical setting
Written for veterinarians, biologists, technicians, specialists, and students, Clinical Guide to Fish Medicine offers a comprehensive review of veterinary medicine of fish. Emerging Issues in Fish Larvae Research
This is an exciting time to practice fish medicine as the field is growing rapidly, techniques and standards are evolving, and information exchange is easy and fast. Veterinary medicine for public aquariums, pet fish, aqua-culture, fisheries, and research are converging as never before, allowing better care across the disciplines. Increased focus on fish welfare and sustainability is helping to refine the care of individuals and populations.
This text provides practical clinical information to help veterinarians, biologists, technicians, and students manage cases and situations effectively and efficiently. We want to help people quickly understand the information they need to consider when faced with clinical cases. We have tried to cover important topics across disciplines, with a goal of building an integrated fish health program that can be generalized to different situations. While we feel it is applicable across disciplines, we are sure it speaks most to vets working in public display facilities and pet medicine, as that is what we know best.
Direct Link For Paid Membership: –
Direct Link For Free Membership: –
| | |
| --- | --- |
| Book Name:  | Clinical Guide to Fish Medicine 1st Edition |
| File Size:  | 26.4 MB |
| File Format:  | PDF |
| Download Link:  | Click Here |
| Password: | PDFLibrary.Net (if Required) |