Mason's World Dictionary of Livestock Breeds, Types and Varieties 6th Edition
---
by Valerie Porter, August 3, 2020, File Type: PDF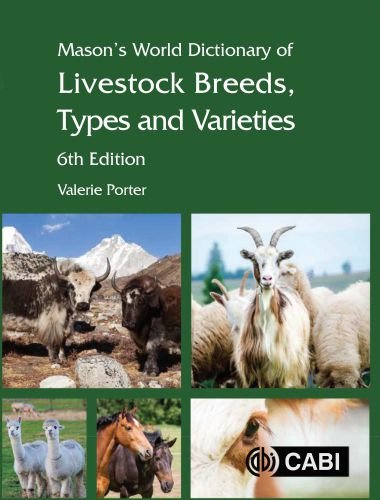 Mason's World Dictionary of Livestock Breeds, Types and Varieties, now in its sixth edition, has a long history as a reliable and authoritative source of key livestock breed information. Intended as a list of livestock names and synonyms for breeds, groups, types and varieties worldwide, the dictionary aims to include all names found in the literature, defining each breed or type with a brief indication of identifying characteristics, uses and source of origin.
Expanded into a new edition, this established and trusted resource:
– Extends coverage to include yak, reindeer and camelids in addition to the existing cattle, sheep, pigs, goats, horses, asses and buffalo
– Features well over 10,000 entries and cross-references on breeds, sub-breeds, types, varieties, strains and lines of species
– Covers newly created and now-recognized local breeds documented over the last two decades
An important updated work, Mason's Dictionary forms a useful reference for livestock breeders and academics interested in breeds, as well as national and international organizations with interests in livestock.
The aim of this Dictionary is to list the livestock names and synonyms that may be encountered in the literature, including those not only of 'breeds' but also of other identifiable groups, types and varieties that have a common origin, or are similar in appearance or geographically linked. The main purpose is to identify each breed, type or variety and to suggest, for each of them, a name to be used in the English language.