Written by veterinary technicians for veterinary students and practicing technicians, Lavin's Radiography for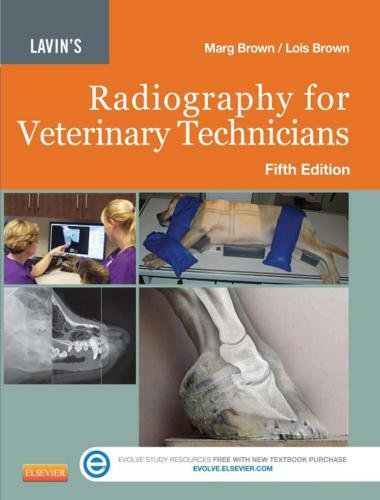 Veterinary Technicians, 5th Edition, combines all the aspects of imaging – including production, positioning, and evaluation of radiographs -into one comprehensive text. Completely updated with all new vivid, color equipment photos, positioning drawings and detailed anatomy drawings, this fifth edition is a valuable resource for students, technicians and veterinarians who need information on the latest technology or unique positioning.
Broad coverage of radiologic science, physics, imaging and protection provide you with foundations for good technique.
Positioning photos, radiographic images and anatomical drawings presented side-by-side with text explanation for each procedure increases your comprehension and retention.
Objectives, key terms, outlines, chapter introductions and key points help you organize information to ensure you understand what is most important in every chapter.
NEW! More than 1000 new full-color photos and updated radiographic images visually demonstrate the relationship between anatomy and positioning.
NEW! All-new color anatomy art created by an expert medical illustrator help you to recognize and avoid making imaging mistakes.
NEW! Non-Manual restraint techniques including sandbags, tape, rope, sponges, sedation and combinations improve your safety and radiation protection.
NEW! Chapter on dental radiography aids general veterinarian techs and those specializing in dentistry.
NEW! Increased emphasis on digital radiography, including quality factors and post-processing, keeps you up-to-date on the most recent developments in digital technology.
This excellent textbook us very readable and provides immediate access to the information required by veterinary professionals seeking to produce good quality radiographic images. As such, it is clearly laid out and presented. The text also makes excellent use of the 506 accompanying illustrations, many of which are reproduced in very high quality.

The fourth edition of this practical text on the subject of radiography is a compilation of the three previous editions, together with the welcome addition of a chapter on digital radiography. This text is written by a veterinary technician, with contributions from two associate professors in radiology, and draws on her considerable experience as a teacher in this field.

The textbook has been totally revamped with all new color photographs and consistent style of color line drawings along with tables and boxes. Each chapter begins with a list of key terms and learning objectives. Points to Ponder, Check it Out, Figure it Out, and Technician Notes have been added as a helpful study tool for students. Key, and other terms, have been defined in the comprehensive glossary that appears at the end of the text. Online enhancement further complements each chapter.

Password: pdflibrary.net


Password: pdflibrary.net