Janeway's Immunobiology Biology 10th Edition
---
 By Murphy, Kenneth M.; Weaver, Casey; Berg, Leslie, Published: 2022, FileType: PDF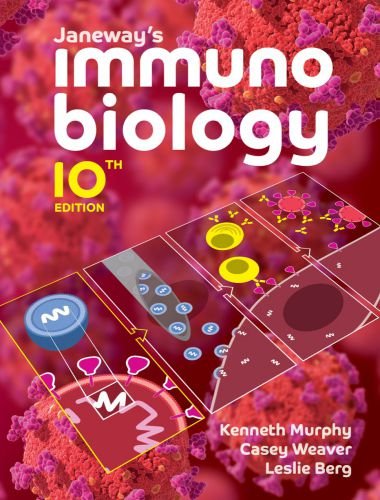 Immunobiology is the premier text for immunology at the advanced undergraduate, graduate, and medical school levels. Beginning students appreciate the book's clear writing and informative illustrations, while advanced students and working immunologists value its comprehensive scope. Every chapter is reviewed with experts to ensure accuracy, authority, currency, and depth. The Tenth Edition is supported by InQuizitive, Norton's award-winning, easy-to-use adaptive learning tool that helps students learn immunological terms and apply them conceptually.
This Tenth Edition of Janeway's Immunobiology strives to carry on Charlie Janeway's legacy of providing a comprehensive, up-to-date textbook focused on the mechanisms underlying the responses to infection. In keeping with this mission, this edition's text and figures have been updated throughout. The immune response to SARS-CoV-2 and the multiple vaccine strategies utilized against this infection are introduced in Chapter 1 and further discussed in Chapters 12, 16, and Appendix I. Chapter 3 now includes a detailed explanation of the mechanism by which mutations in innate sensors of infection can lead to autoimmunity. Coccidiosis in Livestock, Poultry, Companion Animals, and Humans
New developments in the identification of ligands for γδ T cells are highlighted in Chapter 4, and the new cryo-electron microscopy (cryo-EM) structure of the RAG-1:RAG-2 complex bound to DNA is described in Chapter 5. Recently discovered structural features of the peptide-loading machinery for antigen presentation to T cells are included in Chapter 6. The treatment of antigen receptor signaling in Chapter 7 now includes discussion of lymphocyte metabolism, a topic also revisited in the revised Chapters 9 and 11. Additionally, new information in Chapter 7 highlights the pathways targeted by checkpoint blockade immunotherapy and describes the signaling modules used to engineer chimeric antigen receptors (CARs) for cell-based therapies, a topic also elaborated in Chapter 16.
Product details
Publisher ‏ : ‎ 

W. W. Norton & Company; Tenth edition (July 1, 2022)

Language ‏ : ‎ 

English

Paperback ‏ : ‎ 

960 pages

ISBN-10 ‏ : ‎ 

0393884899

ISBN-13 ‏ : ‎ 

978-0393884890
Direct Link For Paid Membership: –
Direct Link For Free Membership: –
| | |
| --- | --- |
| Book Name:  | Janeway's Immunobiology Biology 10th Edition |
| File Size:  | 110 MB |
| File Format:  | PDF |
| Download Link:  | Click Here |
| Password: | PDFLibrary.Net (if Required) |