Exotic Amphibians and Reptiles of the United States
---
By Walter E. Meshaka, Suzanne L. Collins, Published: 2022, FileType: PDF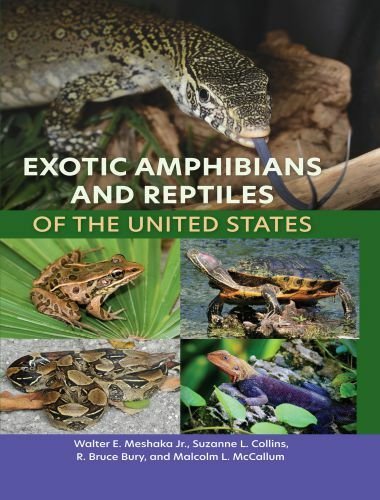 The first complete field guide to the exotic amphibians and reptiles established in the continental United States and Hawaiʻi, this volume covers 74 species that are not native to the country and 29 species that are native but occur beyond their original geographic range. Dispersed from their former habitats by human activity, many of these species are invasive in their new environments, causing ecological or economic harm.
Ideal for naturalists of all levels, Exotic Amphibians and Reptiles details each species' taxonomy, distribution, history, and ecology and portrays each one with vibrant photographs. Drawing on county-level distribution maps from 2,908 published records, this guide provides an in-depth understanding of local factors that drive the success of exotic species. It connects species-specific information to conservation issues as it explores human causes of exotic and invasive establishment. The book also includes eight invited essays which provide regional perspectives on scientific, economic, and management-related aspects of this phenomenon.
As ecological pressures on native species and habitats increase, understanding the histories and roles of exotic species is becoming more and more important for conservation efforts. Providing practical identification skills and an awareness of the environmental impacts of these amphibians and reptiles, this indispensable guide equips readers to confront the unusual biodiversity crisis of exotic species.
Direct Link For Paid Membership: –
Direct Link For Free Membership: –
| | |
| --- | --- |
| Book Name:  | Exotic Amphibians and Reptiles of the United States |
| File Size:  | 108 MB |
| File Format:  | PDF |
| Download Link:  | Click Here |
| Password: | PDFLibrary.Net (if Required) |