Fundamentals of Pharmacology for Veterinary Technicians, 3rd Edition
---
by Janet Amundson Romich, Sarah Wagner, Year 2020, File Type: PDF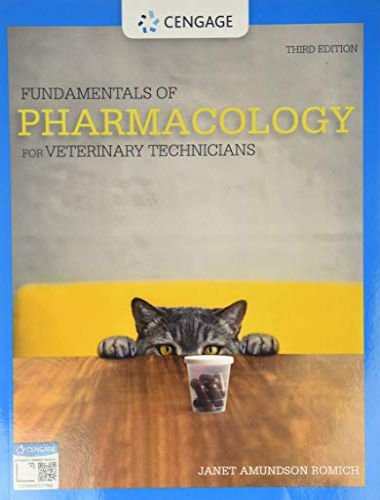 Want to be indispensable to your veterinary care team? Instead of memorizing drug names, elevate your understanding of the drugs used to treat animal patients with Romich's FUNDAMENTALS OF PHARMACOLOGY FOR VETERINARY TECHNICIANS, 3rd Edition.
Following a body-systems approach, you build a foundation knowledge about important drugs, their actions and potentially harmful effects, diseases the drugs treat, how to administer drugs safely and most effectively, and much more. Veterinary Drugs Guide 3rd Edition
And to make what you're learning practical, chapters cover veterinary technician roles, dosage calculations, legal requirements, pharmacy management, job duties and clinical tips. The MindTap platform also offers digital resources such as practice quizzes, games, drug updates, and other supplemental resources for use during your course, while studying for certification exams and in your career.
The content of each chapter is thorough and well-explained. Concepts are organized by the author who understands her subject, including important nuances when administering medications.