Veterinary Surgical Techniques By Amresh Kumar,This book is basically meant as a practical guide to the students of Veterinary Surgery and as a reference book for practicing Veterinary Surgeons.
Veterinary Surgical Techniques By Amresh Kumar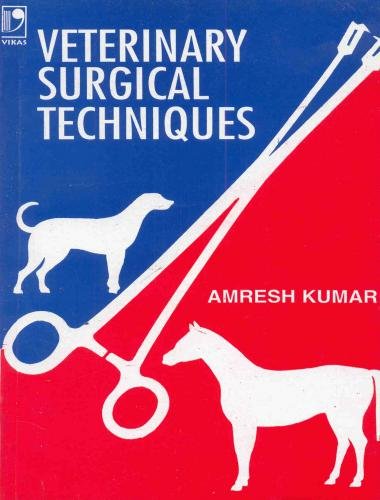 It comprises 18 chapters dealing with surgical restraint; fluid and electrolyte balance before, during and after surgery; use of ideal analgesic and anesthetic agents and techniques; pre-operative, operative and post-operative considerations; suture and suture materials; various surgical instruments used in surgery; techniques of various operations; use of chemotherapeutic agents to combat infection; fracture repair and management of wounds and injuries.
Detailed discussion on these topics of clinical importance has been included in the book. Surgery of various organs has been given in the form of exercises, which comprises indications, sites of operation, control and anesthesia, surgical anatomy and techniques of operation. Download More: Diagnostic Imaging of Exotic Pets – Birds, Small Mammals, Reptiles
The book Veterinary Surgical Techniques contains 407 pages and more than 150 illustrations. Appropriate illustrations have been included to supplement the text, which mostly pertain to instruments, restraint procedures, suture and knots, and surgical techniques of various organs in a step by step sequence. The book will be of use to veterinary students for their education and to practitioners as a guide for their day to day practice.
Presurgical, surgical and post-surgical considerations, 2.Surgical restraint, 3.Surgical instruments, 4.Suture and suture materials, 5. Anaesthesia, 6.Sterilization, 7.Wound healing and general management of wounds, 8.Chemotherapy in surgical infections, 9.Fluid and electrolytes therapy, 10.Fracture and their management, 11.Surgery of special sense organs, 12.Surgery of integumentary system, 13.Surgery of thorax and organs of respiratory tract, 14.Surgery of abdomen and organs of digestive system, 15.Surgery of urinary organs, 16.Surgery of male genital organs, 17.Surgery of female genital organs, 18.Surgery of bones and limbs
Direct Link For Paid Membership: –
Direct Link For Free Membership: –
| | |
| --- | --- |
| Book Name:  | Veterinary Surgical Techniques |
| File Size:  | 16 MB |
| File Format:  | PDF |
| Download Link:  | Click Here |
| Password: | PDFLibrary.Net (if Required) |