Diagnostic Procedure in Veterinary Bacteriology and Mycology, 5th Edition
---
by Grace R. Carter, John R. Cole Jr, FileType: PDF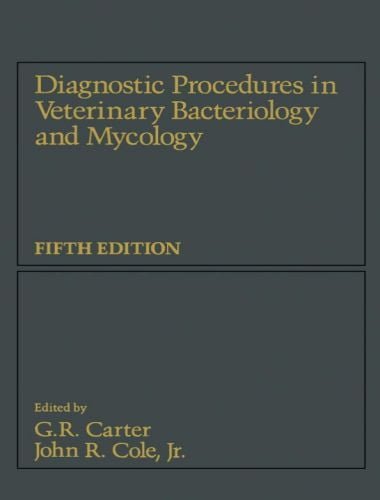 It is now more than 20 years since the first edition of this book appeared. In the second, third, and fourth editions, efforts were made to adhere as much as possible to the original purpose of the book, which was to provide a compilation of practical, effective methods for diagnostic veterinary microbiology laboratories both small and large. We have attempted to maintain this purpose in this fifth edition.
Given the rapid increase in knowledge in both diagnostic bacteriology and mycology, it was considered necessary to increase the number of contributors. Although most of these individuals are specialists, they were urged to emphasize procedures that are within the capability of most diagnostic laboratories. Workers who wish to amplify or vary the procedures described will find sources for additional information in the references. Saunders Comprehensive Veterinary Dictionary 5th Edition
There have been many changes in methods and techniques in diagnostic bacteriology and mycology in recent years as a result of the application of new technologies. The identification of some bacteria and fungi is being simplified and accelerated by the use of genetic probes and new procedures made possible by monoclonal antibodies and enzyme immunodiagnostics. Rapid commercial systems and kits for identification and serotyping have supplanted in many laboratories the slower traditional approaches.
Automation will be increasingly applied to identification and antimicrobial susceptibility testing. A chapter titled "Rapid Methods of Identification" has been added to assist workers in keeping abreast of recent developments. In spite of these advances in the more affluent laboratories, however, many laboratories in the less developed countries will continue to depend, for the most part, upon traditional procedures.
Direct Link For Paid Membership: –
Direct Link For Free Membership: –
| | |
| --- | --- |
| Book Name:  | Diagnostic Procedure in Veterinary Bacteriology and Mycology, 5th Edition |
| File Size:  | 19 MB |
| File Format:  | PDF |
| Download Link:  | Click Here |
| Password: | PDFLibrary.Net (if Required) |