Cardiovascular–Renal Axis Disorders in Cats and Dogs
---
by Javier Duque Carrasco, Rafael Barrera Chacón, Ubiqus, Published: 2021, FileType: PDF+EPUB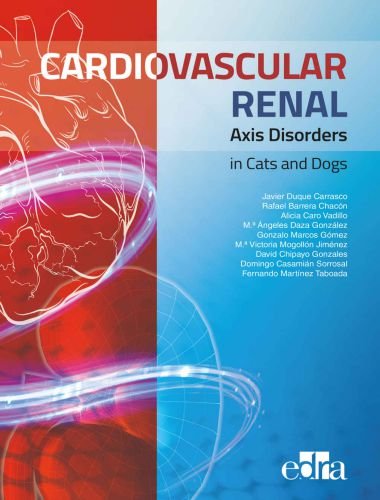 This guide addresses the two-way interaction between the heart and kidney (cardiovascular–renal axis) and shows how both acute and chronic disorders of either of these organs can affect the function of the other. To achieve its objective, the book describes the pathophysiology, diagnostic approaches, and clinical management of these disorders.
The main purpose of the book Cardiovascular–renal axis disorders in dogs and cats is to inform about the clinical repercussions that heart disorders can have on the kidney and vice versa in canine and feline medicine. This is intended to allow veterinary professionals to take into account such complications, as has been done in human medicine for several years, in order to achieve better results in the management of diseases related to both organs. The aim is for the book to be useful for small animal veterinary surgeons and for last-year veterinary students, by providing guidelines for the recognition of this type of disorder, as well as for the management of related complications.
The book begins with a chapter in which the different types of cardiorenal syndrome in human medicine are summarised, together with an update on the syndrome. Indeed, to better understand the bidirectional interaction pathways between the two organs in animals, it is very useful to know the advances in human medicine, pioneers in the study of these disorders.
A chapter with general considerations about the canine and feline species is then included, which reviews the current knowledge on this topic and the nomenclature adopted and prepares the reader to better understand the following chapters. These have been divided into several sections: the study of renal disorders that may occur as a result of cardiovascular diseases, cardiovascular disorders that may occur as a result of renal diseases, and situations in which both organ systems may be affected at the same time. Each chapter includes a definition of the disease in question, its pathophysiological study, the main diagnostic methods, and the recommended treatment.
Direct Link For Paid Membership: –