Swine Respiratory Disease 1st Edition
---
by Paolo Martelli, Joaquim Segalés i Coma, Montse Torremorell, Elena Canelli, Published: 2019, FileType: PDF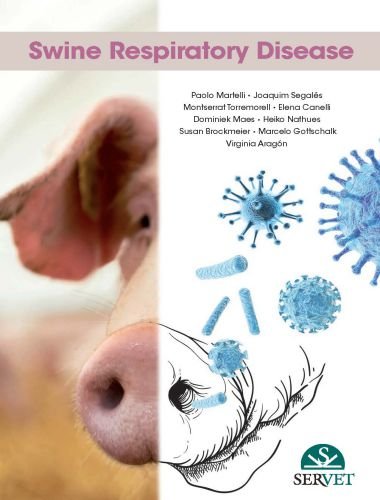 This book aims at providing an updated overview on the most frequent pathogens responsible for Porcine Respiratory Disease Complex (PRDC), viruses and bacteria, acting in association and mainly potentiating their anatomical and functional effects and worsening the clinical outcome and economic impact. The authors, prestigious and rewarded experts with a wide experience in respiratory diseases in pigs, have focused their efforts on preparing chapters that illustrate the latest information and data on the treated topics, while making them as readable as possible. The book inspires to facilitate comprehension and educational enrichment to the preparation of a well-designed, practical approach.
Respiratory diseases, together with enteric disorders, are the most frequently diagnosed clinical entities in pigs. The high incidence of the infectious agents responsible for pneumonia, in association with frequent, sub-optimal environ-mental conditions and management practices, lead to a vicious cycle of respiratory disorder persistence in the herd, at times with an increase in severity of clinical signs and mortality and economic losses. Indeed, the interest of veterinarians and farmers is often focused only on the infectious agents, rather than on the more important, non-infectious conditioning factors.
However, the quality of the microenvironment as a whole (temperature, humidity, dust, ventilation, air speed, etc.) is a pivotal player as a predisposing factor and must be considered first when developing strategies to control respiratory distress today. Vaccines and antibiotic treatment cannot counteract poor environmental conditions. In particular, the need to reduce and prudently use antimicrobials requires a revisiting of the approach of the respiratory diseases as a whole. Erroneously, in the past, it was believed that clinical problems could be mainly solved with drugs. This approach must be inverted and the order of priority of the actions to be taken for the prevention of respiratory disorders has changed to environment, management, vaccines and antimicrobials.
Direct Link For Paid Membership: –