Atlas of Terrestrial Mammal Limbs
---
By Christine Böhmer, Jean-Christophe Theil, Published 2020, FileType: PDF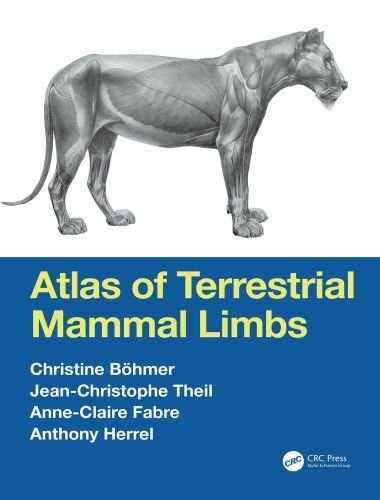 Atlas of Terrestrial Mammal Limbs is the first comprehensive and detailed anatomy book on a broad phylogenetic and ecological range of mammals. This extraordinary new work features more than 400 photographs and illustrations visualizing the limb musculature of 28 different species. Standardized views of the dissected bodies and concise text descriptions make it easy to compare the anatomy across different taxa.
It provides tables of nomenclature and comparative muscle maps (schematic drawings on the origins and insertions of the muscles onto bones) in a diversity of animals. Atlas of Terrestrial Mammal Limbs is a reliable reference and an indispensable volume for all students and professional researchers in biology, paleontology, and veterinary medicine. 3D Joint Anatomy In Dogs, Main Joint Pathologies and Surgical Approaches
Specialized anatomical works for individual species and veterinary anatomy textbooks for domestic animals exist, but to date we lack a clear and visual reference book of the muscular anatomy in a diversity of terrestrial mammals. In this atlas, the musculature of 28 different mammalian species is presented in a series of standardized, black-and-white and full-color photographs of detailed dissections. The aim of these dissections and photographs is to reveal the topographical anatomy of the animals allowing for comparison across phylogenetically and ecologically diverse taxa. We targeted terrestrial mammals with different locomotor ecologies highlighting features which are of particular interest in the study of the limbs. Along with feeding and reproduction, locomotion is a key functional capacity of animals. Movement is powered by muscles, and consequently, differences in muscular anatomy in the limbs may reflect differences in locomotor mode, such as running, climbing, digging or hopping.
This book is intended to be of interest to students, lecturers and researchers studying comparative anatomy, functional morphology and veterinary medicine. Due to my paleontological background, the intention of this project was also to create an atlas that would aid paleontologists in their study of anatomy and when infer-ring muscles in extinct animals only known from fossil bones.
Key Features:
Provides an overview of the anatomy of the mammalian limb
Includes osteological correlates of the limb muscles
Illustrates anatomy in 2D
Documents anatomical diversity in mammalian limbs
Direct Link For Paid Membership: –
Available for Free Membership: –
Size

: 76MB

 

Download Now

:

Click Here

Password

: PDFLibrary.Net (If Required)