555 Questions in Veterinary and Tropical Parasitology
---
by Hany Elsheikha, Xing-Quan Zhu October 2019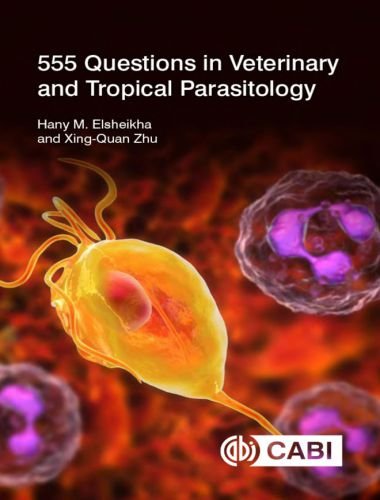 Parasites are a major issue affecting animal and human health, welfare, and economic productivity. This book provides 555 questions to test your knowledge of animal and tropical parasitology, to help you study anywhere, with any amount of time.
Covers the most important and the most neglected parasites in a concise manner.
Questions address parasite biology, epidemiology, diagnostics and management, all in relation to animal health.
Includes key zoonotic parasites and their impact on human health.
Uses multiple choice questions, true or false statements, fill-in-the-blanks, and more, to enable independent learning and self-testing.
Provides explanatory answers to aid further revision and study.
A self-test resource for veterinary and animal science students that is also of interest to medical students interested in parasitology or zoonoses, this book provides a convenient, useful, and current source of information to anyone interested in learning, revising and assessing their knowledge in parasitology.
This was the motivation to produce the first edition of the 555 Questions in Veterinary and Tropical Parasitology. Our aim was to provide essential information in a concise and intellectually stimulating manner in order to engage the readers with the content.This book includes 555 questions, rep-resenting some of the most important parasites parasitologists have ever known as well as those parasites that are neglected.
The questions cover a wide range of topics about parasite biology, epidemiology, diagnostics and management, and encompass both basic parasitology concepts and skills, through to advanced topics such as evidence-based parasitology. The answers are provided for all questions at the end of each section, with additional comments or explanation, when necessary, to assist with under-standing and learning about the topic and not just checking if the answer is right or wrong. We hope that you will find the questions useful in your revision and wish you good luck in your study and examination.
Direct Link For Paid Membership: –
Direct Link For Free Membership: –
| | |
| --- | --- |
| File Size:  | 6.5 MB |
| Download Link:  | Click Here |
| Password: | PDFLibrary.Net (if Required) |