Viral Vectors in Veterinary Vaccine Development: A Textbook
---
By Thiru Vanniasinkam, Suresh K. Tikoo, Siba K. Samal, FileType: PDF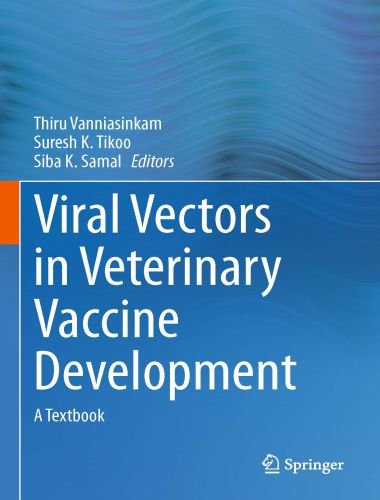 This highly accessible textbook introduces readers to the development of viral vectors and discusses their application in veterinary vaccinology. It offers comprehensive information on the latest advances in this emerging research field, together with a broad overview of the history of veterinary vaccines and viral vectors. The book also addresses issues concerning funding, translational research and ethics that will impact the future development, manufacture and global use of viral vector-based veterinary vaccines.
The book addresses the needs of graduate students and researchers in the fields of Veterinary Medicine, Virology and Immunology. Veterinary Vaccines: Principles and Applications
Vaccination of animals has been carried out for centuries, and it is the most cost-effective and sustainable method of controlling infectious diseases. Veterinary vaccines not only are important to animal health but also play a vital role in reducing transmission of zoonotic diseases to humans and in securing food sup-ply for humans. Conventional inactivated (killed) or live-attenuated vaccines constitute the majority of licensed veterinary vaccines that are currently in use. The widespread use of these vaccines not only substantially contributed to animal welfare and public health but also led to a successful global eradication of rinderpest, one of the animal diseases with major economic consequences in many parts of the world.
Product details
Publisher : 

Springer; 1st ed. 2021 edition (December 1, 2020)

Language : 

English

Hardcover : 

241 pages

ISBN-10 : 

3030519260

ISBN-13 : 

978-3030519261

Item Weight : 

1.49 pounds

Dimensions : 

7.7 x 0.5 x 10.2 inches
Direct Link For Paid Membership: –
Available for Free Membership: –
Size

: 6 MB

 

Download Now

:

Click Here

Password

: PDFLibrary.Net (If Required)