Veterinary Science: Breakthroughs in Research and Practice 1st Edition
---
by Information Resources Management Association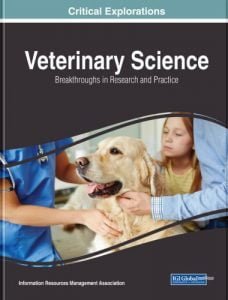 in May 4, 2018

The ever changing landscape surrounding diverse scientific areas can make it very challenging to stay on the forefront of innovative research trends. That is why IGI Global is pleased to offer this one-volume comprehensive reference that will empower students, researchers, practitioners, and academicians with a stronger understanding of veterinary science and the latest research topics and technological innovations in the field.

This compilation is designed to act as a single reference source on conceptual, methodological, and technical aspects, and will provide insight into emerging topics including, but not limited to, tracking and traceability of animals, innovative methods in veterinary education, health monitoring technologies, and diagnostic techniques such as thermography. The chapters within this publication are sure to provide readers the tools necessary for further research and discovery, whether they hold a clinical, administrative, and/or research role.

Veterinary Science: Breakthroughs in Research and Practice is organized into four sections that

provide comprehensive coverage of important topics. The sections are:
Animal Tracking and Sensor Technologies;
Disease Diagnosis and Prevention;
Equine and Livestock Care; and
Veterinary Education.
The following paragraphs provide a summary of what to expect from this invaluable reference source: Section 1, "Animal Tracking and Sensor Technologies," opens this extensive reference source by highlighting the latest trends in animal tracking and microchip implantation. Through perspectives on mobile transceivers, electronic pedigrees, and animal sensor networks, this section demonstrates critical issues surrounding intelligent animal tracking systems and the role they play in animal identification and preservation. The presented research also facilitates discussion on the ethical considerations and potential health impacts of these devices and technologies on different animal species.
Section 2, "Disease Diagnosis and Prevention," presents research on the impact of web-based information systems and advanced imaging processes that can be used in preventing and treating animal diseases and injuries. Including discussions on disease awareness, magnetic resonance imaging, and thermography, the presented research examines the impact of web-based information systems and advanced imaging processes and their contributions to emerging innovations. This inclusive information also assists in advancing current practices in implementing integrated information systems into rabies surveillance.
Download: Statistics for Veterinary and Animal Science 3rd Edition PDF
Section 3, "Equine and Livestock Care," presents diverse perspectives on the economic, environmental, and health issues associated with equine and livestock care. The chapters within this section focus on both the health and well being of the animals as well as the long-term environmental and economic impacts associated with breeding, boarding, and care. The changing role of veterinary services has a direct impact on sustainability in livestock farming and production, and as such, the topic of food security is also covered in length within this section. Through innovative discussions on vaccination protocols and feeding models, this section highlights the innovative directions taking place and how mobile technologies are being integrated into this specialized veterinary care.
Section 4, "Veterinary Education," discusses instructional design techniques and pedagogical approaches for online veterinary learning environments. Through analyses on reusable learning objects and summative assessment, readers are presented with pivotal information on the latest trends in curriculum development. Additionally, this section also provides coverage on strategies for developing and maintaining high-quality veterinary resource collections in libraries.
Although the primary organization of the contents in this work is based on its four sections, offering a progression of coverage of the important concepts, methodologies, technologies, applications, social issues, and emerging trends, the reader can also identify specific contents by utilizing the extensive indexing system listed at the end.
Book Name: Veterinary Science: Breakthroughs in Research and Practice 1st Edition
File Type: PDF
Download: Link
Size: 20 MB
Password: PDFLibrary.Net