Veterinary Medical Terminology 3rd Edition
---
by Dawn E. Christenson, Year 2019, File Type: PDF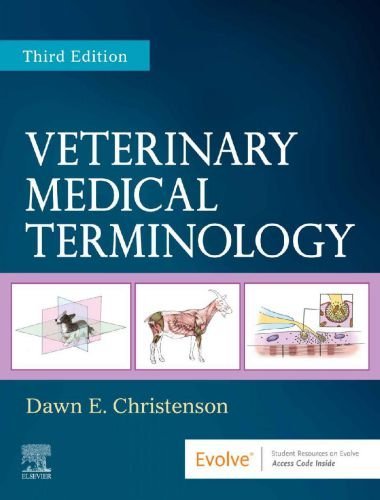 Reader-friendly and organized by body system, Veterinary Medical Terminology, 3rd Edition helps you quickly gain a solid understanding of veterinary terminology. Essential word parts and terms are presented in the context of basic anatomy, physiology, and disease conditions, giving you the tools to immediately apply new terminology to practical clinical situations.
This new edition features learning exercises at the end of each chapter to reinforce content and test your knowledge, challenging you to go beyond simple memorization and become fluent in the language of veterinary medicine.
Updated coverage includes advancements in the vet tech field, new medications, treatments of today's most prevalent diseases, and the latest procedures in orthopedics. With additional online material that reinforces the text, this third edition is an essential resource for learning the medical terms and basic principles of veterinary medicine.
A logical body-systems approach and consistent chapter format help students find information quickly and learn more effectively.
UNIQUE! Goals and objectives at the beginning of each chapter help students focus their study time and check their recall and understanding of key facts and terminology.
Over 200 illustrations clearly demonstrate key anatomy and physiology concepts and terminology.
Helpful appendices in text provide information on chemical symbols and elements and common veterinary medical abbreviations.
A complete glossary of word parts gives students quick access to the spelling and meaning of every prefix, suffix, root, and combining form covered in the book.
Presentation of anatomic, physiologic, and/or pathophysiologic concepts and principles in all chapters enhances your students' ability to quickly apply newly learned terms.
Self-test exercises at the end of each chapter allow students to thoroughly review content.
NEW! Coverage of the latest advancements in the vet tech field, include all-new drugs, today's most prevalent diseases, and state-of-the-art procedures in orthopedics.
NEW and UNIQUE! Learning exercises at the end of each chapter test your students' knowledge and challenge them to use newly learned terms.
This text is designed to be used for self-study, as part of a medical terminology course or to enhance other veterinary-related coursework. It has been created to assist veterinary technology, preveterinary, and veterinary students alike. An Illustrated Guide to Veterinary Medical Terminology 4th Edition
The text is intended to provide students with a basic foundation in the language of veterinary medicine—veterinary medical terminology. In my experience as an educator, I learned that if students are to be successful, they must immediately apply what they have learned. That is why anatomy, physiology, disease concepts, and clinical case information are included at an introductory level.
The scientific information provides immediate application of the terminology presented in each chapter. Clinical case studies provide students with an opportunity to test their knowledge at the end of each chapter. It is my hope that the scientific information brings this new language to life and gives students an insatiable desire to learn even more. If you've learned a foreign language, you know that simply memorizing words does not make you fluent in the language.
Context is everything. Likewise, medical terms must be read, spoken, and used in context. Repetition and practice in all aspects of the language makes you fluent. In my experience, facts memorized without reinforcement or application are soon forgotten. And if we forget medical terminology, we do our patients a disservice.
So, students, I encourage you to lay a strong foundation for your career, by learning medical terminology well. Veterinary medicine and its language are ever-evolving. A commitment to lifelong learning is essential to the success of every veterinary professional and the patients they serve.
Direct Link For Paid Membership: –
Direct Link For Free Membership: –
| | |
| --- | --- |
| Book Name:  | Veterinary Medical Terminology 3rd Edition |
| File Size:  | 60 MB |
| File Format:  | PDF |
| Download Link:  | Click Here |
| Password: | PDFLibrary.Net (if Required) |