Veterinary Guide for Animal Owners, 2nd Edition: Caring for Cats, Dogs, Chickens, Sheep, Cattle, Rabbits, and More
---
By C. E. Spaulding, Jackie Clay, Published: 2015, FileType: PDF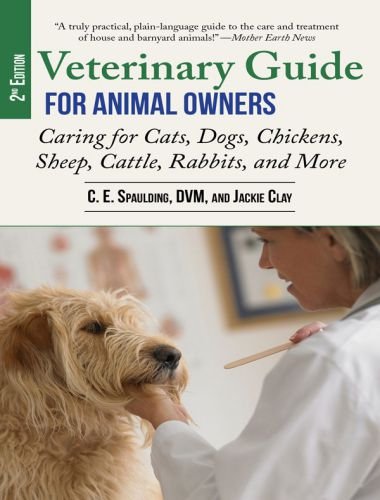 Whether you own cats, dogs, rabbits, chickens, horses, cattle, sheep, goats, pigs, or a combination of animals, you need expert information to make sure your animal friends stay happy and healthy. From nail care for dogs to treating saddle sores on horses to incubating turkey eggs, Veterinary Guide for Animal Owners, 2nd Edition offers advice in easy-to-understand language. With this comprehensive book, learn how to: A Veterinary Guide to Goat Health and Welfare
Provide first aid for cattle
Vaccinate sheep
Treat a colicky horse
Breed chickens
Care for bunnies
Treat a diabetic dog
Help a cat with diarrhea
And much more!
Whether you are a 4H student, a home breeder raising chickens, the manager of a small farm, or the owner of a new puppy, this book—chock-full of strategies for preventing and curing common problems—is for you. Authors C. E. Spaulding and Jackie Clay also include a guide to choosing the right veterinarian, a glossary of commonly used terms, and a recommended reading list, making this a perfect no-nonsense companion for any animal owner.
Written in language that is clear and to the point, the Veterinary Guide for Animal Owners makes a handy all-in-one health care and management guide for anyone who keeps a variety of pets and livestock, large and small.
Product details
ASIN ‏ : ‎ 

B01LR7TPMS

Publisher ‏ : ‎ 

Skyhorse; 2nd ed. edition (February 10, 2015)

Publication date ‏ : ‎ 

February 10, 2015

Language ‏ : ‎ 

English

File size ‏ : ‎ 

5503 KB
Direct Link For Paid Membership: –