Toxoplasmosis of Animals and Humans 3rd Edition
---
by J. P. Dubey, Published: September 2021, FileType: PDF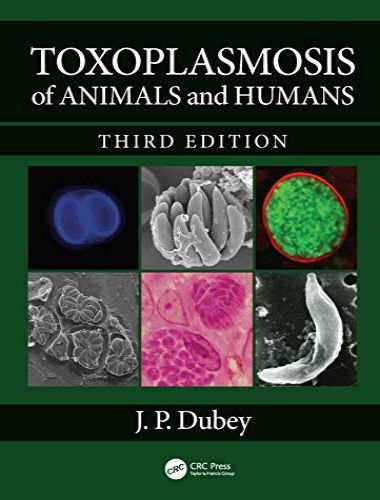 This is the only book to cover toxoplasmosis of animals and humans thoroughly in one single source. Found worldwide from Alaska to Australasia, Toxoplasma gondii is the cause of one of the most common parasitic infections in humans, livestock, companion animals, and wildlife, and is included on the list of potential bioterrorism microbes. Furthermore, T. gondii has been and continues to be used extensively as a model for the cell biology of apicomplexan parasites.
In the decade since the second edition of this book was published, there has been an explosion of knowledge concerning the parasite Toxoplasma gondii and toxoplasmosis. This update provides unique information on all known host types for this parasite, with an additional chapter on history, substantial updates throughout, and a detailed focus on the biology of the parasite in Chapter 2. The third edition is compiled by author JP Dubey, an authority on T. gondii who has worked with virtually all hosts of the protozoan during the last 55 years, including humans, all livestock species, wildlife, and zoo animals.
The book distills the voluminous and potentially confusing scientific literature, that has grown geometrically in the 30+ years since the publication of the first edition, into a comprehensive resource for all professionals, graduate students and researchers working in this field. Life Cycles of Ectoparasites in Small Animals
This is an exceptional treatment of Toxoplasma gondii – arguably the most successful parasite on our planet. J.P. Dubey has been either the lead of the discoveries or the energetic observer over the past 50 years. The book provides an up-to-date deep dive into the lifecycle, diagnostics and T. gondii-host interactions with practical tips and tricks that make this book a must own for anyone aiming to understand the parasite. J.P. Dubey writes "I am still searching for a chemical that will kill T. gondii oocysts without harming humans", confirming his unprecedented life-long affair with the parasite. While we have not completely outsmarted T. gondii, the 21st century toolbox coupled with the biological experiments invented by the pioneers of the trade summarized in this book is moving us closer to the target.
Product details
Publisher ‏ : ‎ 

CRC Press; 3rd edition (September 10, 2021)

Language ‏ : ‎ 

English

Hardcover ‏ : ‎ 

552 pages

ISBN-10 ‏ : ‎ 

0367543125

ISBN-13 ‏ : ‎ 

978-0367543129
Direct Link For Paid Membership: –