Sperm Morphology of Domestic Animals
---
 By Jennifer Koziol , Chance Armstrong, Published: 2022, FileType: PDF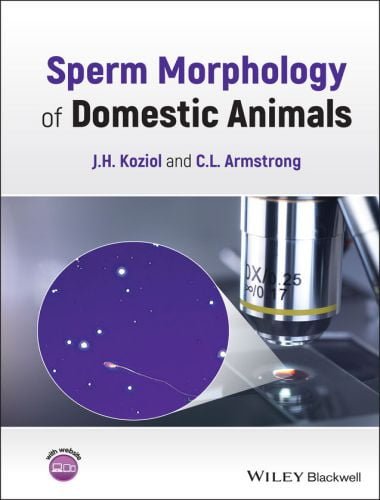 A practical guide to interpreting sperm morphology of domestic animals
Sperm Morphology of Domestic Animals PDF is a concise, clinically-oriented resource for discovering any impairment to fertility caused by sperm anomalies in domesticated animals. As a bench-side reference, the book examines common sperm defects, their causes, and their prognosis for fertility.
An easy-to-use reference, it is organized according to the placement of the deformity in the sperm to increase the speed of consultation, and to help with diagnosing fertility issues. Focusing particularly on the bull, stud horse, boar, ram, buck, and dog, it contains hundreds of high-quality color images accompanied by brief descriptions for additional diagnostic help. Readers will find:
An easy-to-use reference work that is suitable for use next to the microscope
Organization according to location of abnormality
Hundreds if high-quality color images for easy comparison
Brief descriptions accompanying each photo, for additional diagnostic help
An ideal resource for veterinarians, andrologists, and veterinary students, Sperm Morphology of Domestic Animals fills a gap in current reproductive medicine resources with detailed information that is easy to consult. Parasitic Infections of Domestic Animals: A Diagnostic Manual
The book has been written to further the understanding of morphologic assessment in the dog, stallion, bull, buck, and ram. This text is directed toward veterinary students and practitioners. Morphologic evaluation of sperm is a confusing part of the fertility examination. Ample images and figures have been added to provide real- time support during semen evaluation. The authors sincerely hope the added imagery will help provide clarity to a complex and often confusing portion of fertility assessment. Morphologic evaluation of sperm is an ever- evolving area of theriogenology, and this text has been written with the latest information from the current literature.
Product details
Publisher ‏ : ‎ Wiley-Blackwell; 1st edition (April 12, 2022)
Language ‏ : ‎ English
Hardcover ‏ : ‎ 144 pages
ISBN-10 ‏ : ‎ 1119769760
ISBN-13 ‏ : ‎ 978-1119769767
Direct Link For Paid Membership: –