Handbook of Mouse Mutations with Skin and Hair Abnormalities
---
 By John P. Sundberg, Published: 1994, FileType: PDF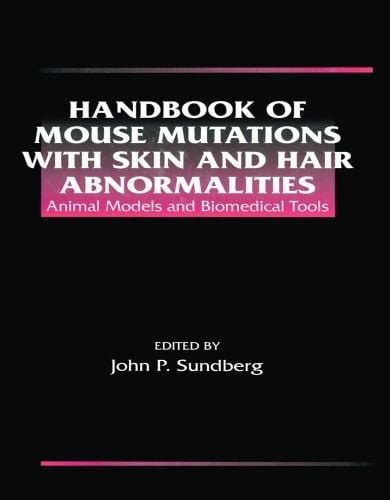 Handbook of Mouse Mutations with Skin and Hair Abnormalities PDF presents 48 mouse mutations that are all available to the biomedical community. Many of the mouse mutations with dermatological diseases are reviewed and illustrated in detail. This popular reference book gives you a single source to use when determining which mouse mutation will best serve your needs as a biomedical tool for sophisticated research projects.
The book also includes an overview of domestic animal Geno dermatoses to provide alternatives to mouse models that do not exist or to complement those that do. A detailed section written by renowned experts compares the biology of human and mouse skin and skin diseases in the areas of development and the use of animal models, mammalian genetics, keratin biochemistry, epidermal and hair follicle cycles and kinetics, cytokines and growth factors, keratinocyte culture systems, cutaneous carcinogenesis, cutaneous immune system, and skin changes associated with mutations of the endocrine system. Animal Coronaviruses 1st Edition
Mouse mutations have been studied by geneticists for years. Stable breeding colonies have been established and maintained, most on inbred strain backgrounds. The genetics of many mutations have been studied extensively leading to mapping of mutant gene loci. With the advent of molecular approaches, the exact genes can now be identified making mouse mutations a remarkable resource. Unfortunately, large numbers of mutations have been superficially, poorly, or inaccurately described morphologically. Comparison with similar diseases of humans and domestic animals, if done at all, is often buried in journals not read by biomedical researchers. The end result is that an incredibly valuable resource is overlooked.
Product details
Publisher ‏ : ‎ 

CRC Press; 1st edition (May 19, 1994)

Language ‏ : ‎ 

English

Hardcover ‏ : ‎ 

560 pages

ISBN-10 ‏ : ‎ 

0849383722

ISBN-13 ‏ : ‎ 

978-0849383724
Direct Link For Paid Membership: –