Small Animal Surgery: Errors and Complications in Surgery
---
 by Rodolfo Bruhl Day, María Elena Martínez, Pablo Meyer, José Rodríguez Gómez, Published: January 2018, FileType: EPUB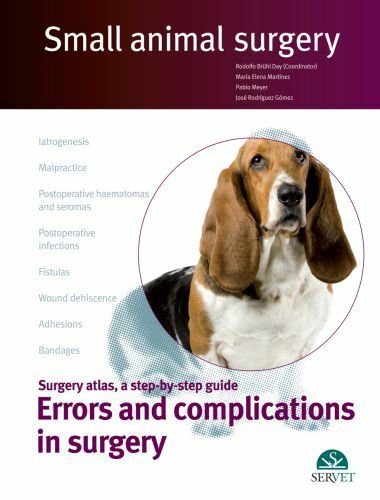 This new book in the Small Animal Surgery series has been designed as a review of the surgical errors and complications that may occur in daily practice, so that veterinary surgeons can learn to prevent them or resolve their consequences. The book includes QR codes to view videos of some of the techniques described as an aid to understanding them. It is intended for surgeons starting their professional careers and residents, as well as more experienced veterinary surgeons, since it must not be forgotten that error can occur at any time, no matter how much experience a clinician may have.
The purpose of this new book in the Small Animal Surgery series is to review surgical errors that occur in daily practice. Some are involuntary, while others are the result of a limited ability or inadequate training, lack of expertise, lack of the proper surgical technique or of the instruments necessary to perform a particular procedure. The lack of experience also plays an important role in obtaining a beneficial result for the patient. Veterinary Surgery: Small Animal 2nd Edition
Referral cases can sometimes be demanding, so specialised surgeons in this area, with years of experience in training professionals and in private practice will explain each case, step by step, how it was diagnosed and, a posteriori, resolved through surgery.
The purpose of this book is not to lift accusing fingers, but to review the errors and surgical complications that occur in the daily practice of small animal surgery. This book follows the direction of the other volumes of the series, from both a clinical and practical point of view. It is directed towards novice surgeons and residents, as well as more experienced surgeons because there is always room for error if it is not taken into consideration.
Direct Link For Paid Membership: –