Servet Clinical Guides, Chronic Kidney Disease
---
by Carmen María Pineda Martos, Ignacio López Villalba, María Luisa Suárez Rey, Published: 2020, FileType: PDF+EPUB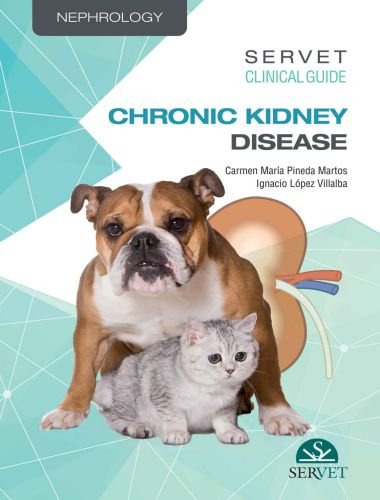 This Servet Clinical Guide on chronic kidney disease provides veterinary surgeons with the most up-to-date information on this disease to help them establish diagnosis and select the most appropriate treatment for each patient. Readers are provided with a series of guidelines, presented in a visual and dynamic manner, that will help them develop an effective relationship with the owner and explain the key aspects of their pet's disease.
Chronic kidney disease (CKD) is one of the most common diseases of dogs and cats encountered in daily clinical practice. This guide focuses on the medical management of patients with CKD. Each chapter provides the most up-to-date information on the pathophysiology, clinical signs, staging, diagnosis, and treatment of the disease. Replete with illustrations, images, and diagrams, this didactic guide constitutes a fundamental and useful tool for daily consultation by veterinary surgeons working in clinical practice. The book discusses the management of CKD patients from the first visit to the clinic through to subsequent follow-up consultations.
The section on communication discusses the importance of dialogue in order to explain this complex disease to the owner and emphasises the need for owner participation in patient management. This will help readers establish the most appropriate management guidelines for each patient, with the consent of the pet owner. A key objective of this guide is to provide veterinary surgeons with the information necessary to manage each individual case and determine when to refer the patient to a specialist.
The information contained in this guide is presented in a visual and dynamic manner, and focuses on the needs of the owner while maintaining scientific rigour. This guide constitutes a crucial resource to answer the most common questions posed by pet owners, and to consolidate and expand the veterinary surgeon's knowledge base.
Direct Link For Paid Membership: –