Principles Of Meat Technology: 2nd Revised And Expanded Edition
---
By Singh V.P. & Neelam Sachan, Published: 2015, FileType: PDF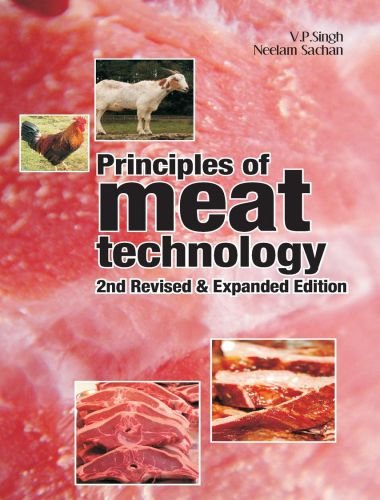 The 2nd edition of book entitled "Principles of Meat Technology" has been designed and modified as per the recent requirement of the Veterinary Professionals and is entirely based on recent course-curriculum of Veterinary Council of India. All the topics included in VCI syllabus for Meat Science subject have been illustrated and discussed in detail with the supplementation of previous edition. The reference material and current scientific information on the subject has been updated which will be of immense value for meat processing industry and persons having some stakes in this subject.
This book is broadly covering fresh meat and aquatic foods, their processing, preservation, packaging, standards and biotechnological applications in this specialized field with recent innovations. In this edition book will serve the purpose of impartation of knowledge, skill and update material to acquaint the students of Veterinary Science. It is also due to upgradation of each and every of the book with recent knowledge and innovations.
Read More: Lawrie's Meat Science 9th Edition
The themes mentioned in the syllabus of VCI is very well covered particularly meat structure, product's quality, handling and processing is very well documented. So authors believe that efforts put in this edition of book in form of material, scientific facts and language will help in understanding the meat science to the students of veterinary science, food science and technology, fish technology, meat technologists, academicians of this field, technicians engaged and the processors of animals and fish products.
Direct Link For Paid Membership: –