Pathogenic Coronaviruses of Humans and Animals: SARS, MERS, COVID-19, and Animal Coronaviruses with Zoonotic Potential
---
By Lisa A. Beltz, Publish: 2023, FileType: PDF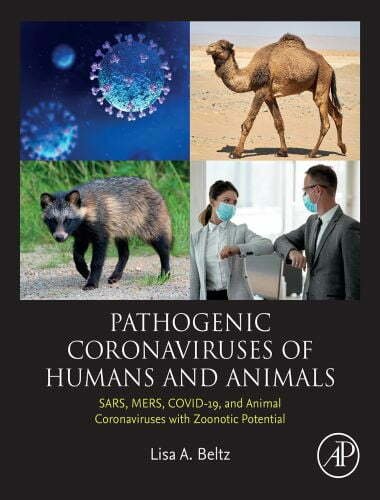 Pathogenic Coronaviruses of Humans and Animals PDF: SARS, MERS, COVID-19, and Animal Coronaviruses with Zoonotic Potential provides relevant information about common human coronaviruses that may mutate to increase their virulence. The addition of animal coronaviruses allows awareness of not only the potential of zoonotic transmission of coronaviruses from wild animals such as bats and rodents, but also from domestic agricultural and companion animals. The book opens with an introductory chapter on viruses, the immune system, coronaviruses, and their classifications, prevention and protection. Sections also cover history, disease, causative virus, immune response, diagnosis, treatment, prevention and surveillance.
The book's remaining chapters discuss coronaviruses with possible zoonotic transmission of domestic, semi-domestic animals and companion animals. It concludes with future perspectives of coronavirus mutations, modeling, protective measures and a discussion around pandemics and infectious diseases from around the globe.
Many species of coronaviruses infect humans and animals, including livestock (pigs, cattle, dromedary camels, alpacas, llamas, horses, sheep, goats), wild and semi-domesticated animals (bats, rodents, ferrets, minks), and companion animals (cats and dogs). Some of these corona-viruses, including feline enteric coronavirus, ferret enteric coronavirus, canine enteric corona-virus, and alpaca enteric coronavirus, primarily cause disease in the digestive system.
Direct Link For Paid Membership: –
Direct Link For Free Membership: –
| | |
| --- | --- |
| Book Name:  | Pathogenic Coronaviruses of Humans and Animals |
| File Size:  | 7.6 MB |
| File Format:  | PDF |
| Download Link:  | Click Here |
| Password: | PDFLibrary.Net (if Required) |