Multiple Choice Questions in Veterinary Science
---
By Kumar, Rajesh, Published: 2022, FileType: PDF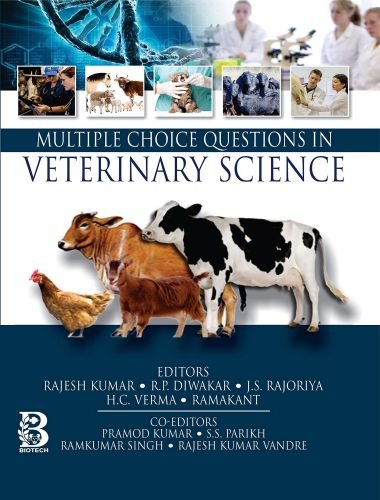 Multiple Choice Questions in Veterinary Science, The primary aim of the book is to provide multiple choice questions of different subjects taught in veterinary science. The questions are framed in a concise and easily comprehensible manner. For ease of understanding and convenience for the veterinary students in general, B.V. Sc. and A.H. students in particular, the book has been divided in sixty two chapters. Which are arranged as it is taught at undergraduate level as per VCI curriculum.
The matters on various subjects were contributed by experts from different states of the country, who are actively engaged in teaching and research in sphere of veterinary science. In addition to B.V. Sc. and A.H. students this book is also helpful for PG and Ph.D. entrance, M.V. Sc., and Ph.D. students as well as aspirants of ICAR-NET, ARS, ICAR-JRF, ICMR-JRF, ICAR-SRF, CSIR-NET, IAS and IFS. This book will be equally useful for teachers who teach veterinary students at various levels. Review Questions and Answers for Veterinary Technicians 6th Edition
The book is the result of continuous rigorous efforts of editors and a battery of experts. Efforts have been made to ensure the questions compiled are accurate, relevant and up-to-date. This is our first attempt, under the time constraints; we hope to do better in future. We hope this book will be very useful and fathomable for preparation of various competitive examinations. We are highly thankful for our authors for their contribution in preparation of the book.
Direct Link For Paid Membership: –