Modern Monitoring in Anesthesiology and Perioperative Care
---
By Andrew B. Leibowitz, Suzan Uysal | Year 2020 | FileType: PDF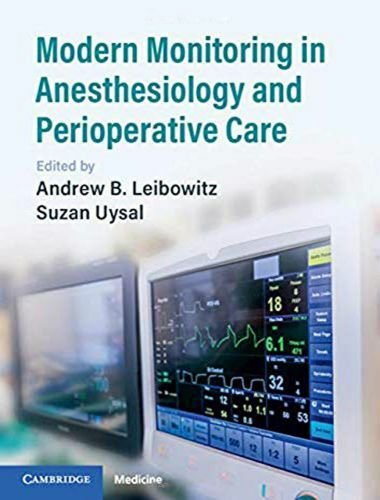 Close monitoring of patients during anesthesia is crucial for ensuring positive treatment outcomes and patient safety. The increasing availability of new technologies and the repurposing of older monitors means more patient data is at anesthesiologists' fingertips than ever before. However, this flood of options can be overwhelming.
A practical resource for understanding this array of clinical monitoring options in anesthesia, this important text focuses on real-world applications in anesthesia and perioperative care. Reviewing the evidence for improved patient outcomes for monitoring technology, neurological monitoring, echocardiography systems and ultrasound are amongst the techniques covered in a head-to-toe approach.
Statistics used by manufacturers to gain approval for their technology are discussed, as well as the under-appreciated risks associated with monitoring such as digital distraction. Future monitoring technologies including wearable systems are explored in depth. Focusing on applied practice, this book is an essential text for front-line healthcare professionals in anesthesia.
This book aims to be different than other monitoring books and focuses on the "practical." Chapters on statistics and electronic distraction are unique and provide a framework for evaluation of all monitors, and reveal the risk that too much information poses to the care that we provide. Other chapters focus on the "why" monitoring a certain variable may be advantageous, the basics of "how" the monitor works, and "what" is the evidence of the impact on patient outcome.
A basic theme of the chapters is that just because we can do something does not mean we should, and sometimes less may be more, but a working knowledge of the whys, hows, and whats of modern monitoring in anesthesiology and perioperative care will allow every provider to optimize their patient's safety and the quality of care they provide.
Direct Link For Paid Membership: –
Direct Link For Free Membership: –
| | |
| --- | --- |
| Book Name:  | Modern Monitoring in Anesthesiology and Perioperative Care |
| File Size:  | 26 MB |
| File Format:  | PDF |
| Download Link:  | Click Here |
| Password: | PDFLibrary.Net (if Required) |