Manual of Canine and Feline Wound Management and Reconstruction 2nd Edition
---
by John M. Williams, Alison Moores Year June 22, 2009, FileType: PDF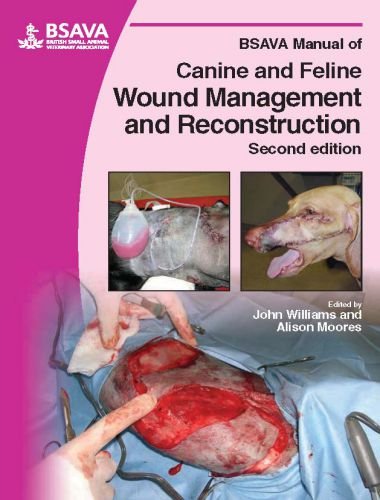 The first edition of the BSAVA Manual of Canine and Feline Wound Management and Reconstruction, there have been many advances in wound management, and particularly in oncological surgery, that have led to veterinary surgeons being presented with larger and more complex wounds.
At the same time, the understanding of the physiology of wound healing has advanced, and the techniques available for wound closure have multiplied, with greater use of the already described axial pattern flaps and increasing use and description of muscle flaps. Other challenges facing the veterinary surgeon include the recognition of multi-drug-resistant bacteria and nosocomial infections.
We therefore set out to provide an up-to-date book containing detailed surgical descriptions, with surgical illustrations and photographs of case examples. Get More: Small Animal Formulary Part A Canine and Feline 10th Edition
In particular, the understanding of local subdermal plexus flaps, axial pattern flaps and muscle flaps has been enhanced with step-by-step descriptions of the surgical techniques, including planning, lifting and rotating flaps, as well as closing defects at the donor site. The illustrations in this Manual follow a similar format to those in other recent BSAVA Manuals of soft tissue surgery.
The Manual is useful for all veterinary surgeons presented with a challenging wound. It provides information in a readily accessible manner on wound management and dressings of open wounds. The chapter on tension-relieving techniques is applicable to the management of small wounds treated in everyday practice, as well as larger wounds treated less often or on a more specialist basis.
There are more advanced chapters on skin grafts, axial pattern flaps and muscle flaps, for those with a caseload of larger and more complex wounds. Although microvascular techniques are still not routinely performed in veterinary practice, it is expected that during the lifetime of this Manual these techniques may become more commonplace.