Manual of Canine and Feline Head, Neck and Thoracic Surgery, 2nd Edition by Daniel J. Brockman, David E. Holt (Editor, Gert ter Haar November 2018.
Manual of Canine and Feline Head, Neck and Thoracic Surgery, 2nd Edition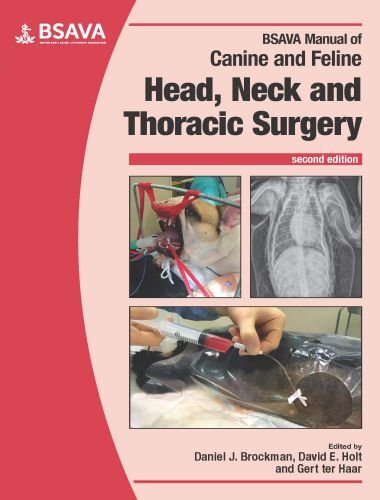 This manual provides a practical, up-to-date approach to head, neck and thoracic surgery in dogs and cats. The chapters flow logically from the required surgical instrumentation and then into surgery, starting at the oral cavity and nose and working caudally. Each chapter describes diagnosis and treatment, with step-by-step operative techniques for selected procedures.
Diseases of the head, neck, and thorax are often multifaceted cases that require technically precise surgery in areas with complex anatomy. For the second edition of this Manual we have assembled a wide range of experts for the various chapters; we would like to thank these authors for sharing their knowledge and experience with us. Small Animal Surgery: Errors and Complications in Surgery
We would also like to acknowledge the many clinicians who have pioneered these fields, including Dr Venker-van Haagen, Dr Spreull, Dr Lane, Dr Little, Dr White, Dr Buchanan and many others, and thank them for their years of work and contributions to our understanding. We would especially like to acknowledge and thank Dr Colin Harvey for his willingness to write the Foreword to this edition. All of these clinicians have served as teachers and mentors to many veterinarians and have made huge contributions to these fields.
All three of the editors had the good fortune of residency training and mentors to guide us through difficult cases. We realize that specialist training is not possible for many veterinarians and hope this manual provides the information and guidance needed for managing these cases that are sometimes challenging but often very rewarding.
Direct Link For Paid Membership: –
Direct Link For Free Membership: –
| | |
| --- | --- |
| Book Name:  | Manual of Canine and Feline Head, Neck and Thoracic Surgery |
| File Size:  | 36.2 MB |
| File Format:  | PDF |
| Download Link:  | Click Here |
| Password: | PDFLibrary.Net (if Required) |