Manual of Canine and Feline Advanced Veterinary Nursing 2nd Edition
---
 by Alasdair Hotston Moore, Suzanne Rudd, File Type: PDF 
Reprinted in 2015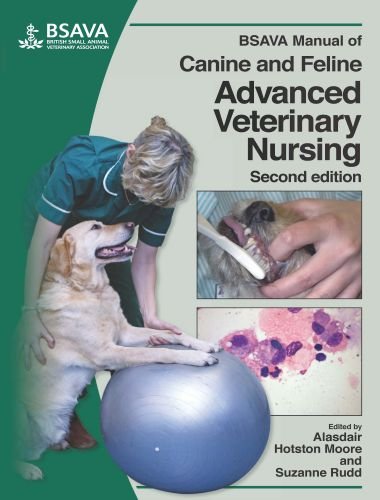 The third in the series, the Manual of Advanced Veterinary Nursing, was written to provide a deeper level of information for qualified veterinary nurses, especially those undertaking Medical or Surgical Diplomas. The new edition has been completely revised and updated under the direction of the new editorial team of Alasdair Hotston Moore and Suzanne Rudd. Reflecting recent advances in nursing skills and training, the content has been upgraded to include more advanced procedures.
Full colour photos and specially commissioned illustrations, together with text boxes and tinted tables ensure the easy-to-use format that is the trademark of the BSAVA Manuals. Veterinary nursing has progressed rapidly over the last 20 years. With the recent development of self-regulation, veterinary nurses are being recognized in their own right and taking further steps forward as true professionals. The veterinary nursing qualification now opens many doors to further careers and qualifications, ensuring the 'glorified cleaner' image is a thing of the past. Along with veterinary science, veterinary nursing is developing, our knowledge is increasing and standards of nursing care are becoming more advanced.
As editors we decided that to build upon the first edition of the Manual of Advanced Veterinary Nursing, we would approach a number of veterinary nurses to be the main authors for many of the chapters: after all, they have first-hand experience of what is important for a veterinary nurse to know. Many veterinary surgeons with an area of expertise have also been involved to ensure that the developments in veterinary science are shared amongst all within the profession. We also wanted to look at areas within veterinary nursing that had made significant developments. Physiotherapy, behaviour and the introduction of nurse-led clinics are just three of the major advances within the veterinary nursing profession.
Get More Books: Pocketbook for Vets 2nd Edition Revised
In line with the advanced nursing diplomas, we wanted to create a Manual that would be useful for both the surgical and medical aspects of the course. However, it became apparent that covering the whole of, for example, medical nursing would be a Manual in itself; therefore, we hope this Manual will interlink with many of the veterinary Manuals already produced. With many veterinary nurses now pursuing careers in a specific stream, such as anaesthesia, and gaining post-qualification certificates, e.g. in nutrition, we wanted to ensure that information at an advanced level was included.
The Manual has a canine and feline focus. Cats are now accepted as a species in their own right and need different requirements and nursing techniques to that of the dog. We have tried to incorporate more of these differences to promote this recognition. Password: MOCAFAVN2E!+PDFLibrary.Net
Direct Link For Paid Membership: –
Direct Link For Free Membership: –
| | |
| --- | --- |
| Book Name:  | Manual of Canine and Feline Advanced Veterinary Nursing 2nd Edition |
| File Size:  | 17.1 MB |
| File Format:  | PDF |
| Download Link:  | Click Here |
| Password: | MOCAFAVN2E!+PDFLibrary.Net (if Required) |