L'élevage des grands camélidés
---
By Bernard Faye, Gaukhar Konuspayeva, Cécile Magnan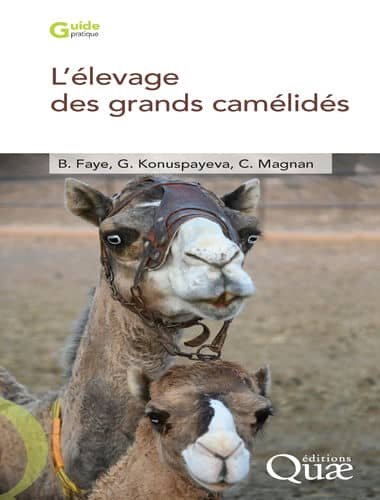 L'élevage des grands camélidés PDF, This book offers a comprehensive and practical approach to the management of Camelid farming, especially regarding dairy production. It addresses a specific audience involved in Camelid farming, and provides technical and care advice for the animals, both in their countries of origin and in their new host countries.
Les grands camélidés, qui comprennent deux espèces domestiques (le droma-daire et le chameau de Bactriane), longtemps confinés dans les zones arides de l'Ancien Monde, sont de plus en plus présents dans le paysage agricole français et même européen. Destinées à des activités touristiques diverses (animations, méharées), sportives (course) ou de production (lait, voire laine), ces espèces ne relèvent pas d'une tradition d'élevage bien établie sous les latitudes européennes. Aussi, éleveurs, techniciens et vétérinaires se trouvent souvent confrontés à de nombreuses questions sur la façon de se comporter face à l'animal, de le manipuler, de déterminer ses besoins d'alimentation, de gérer sa reproduction ou tout simplement de lui apporter les soins nécessaires au quotidien. De plus, dans les pays francophones d'Afrique, peu d'ouvrages de synthèse sont disponibles.
Related Book: Medicine and Surgery of Camelids, 4th Edition
C'est donc l'ambition de ce livre d'apporter des réponses utiles, simples et pratiques à tous les acteurs d'une filière traditionnelle en pleine mutation dans les pays arides, ou nouvelle sous d'autres latitudes, et qui bénéficie, de plus, d'un engouement certain depuis quelques décennies, aussi bien dans les pays d'origine que dans le monde occidental. Engouement que l'on doit bien sûr à la remarquable résistance des grands camélidés à des conditions écologiques extrêmes dans un contexte de changement climatique, mais aussi à la qualité exceptionnelle de ses produits (lait, viande, laine) et de ses services (transport, monte, gestion des espaces pastoraux). Engouement que l'on doit aussi à la bonne valorisation de ses produits et de ses services sur les marchés natio-naux et internationaux, à tel point que l'on peut parler de l'émergence d'une nouvelle filière pour une espèce cantonnée encore il y a peu à la subsistance de populations nomades vivant dans les régions les plus hostiles de l'Ancien Monde, sans prise notable sur l'économie locale.
Direct Link For Paid Membership: –