Hawkey's Atlas of Wild and Exotic Animal Haematology
---
 By: Mike Hart, Jaime Samour, Published: October 2020, File Type: PDF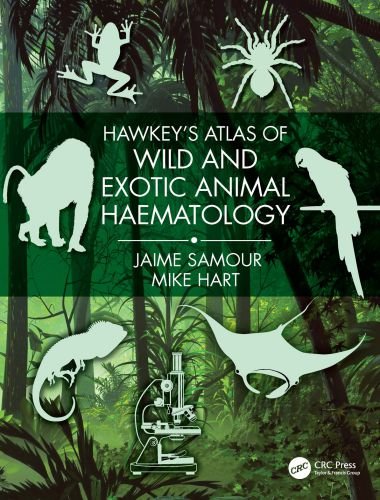 This revised, updated and expanded edition of Christine Hawkey's A Colour Atlas of Comparative Veterinary Haematology is bursting with high-quality images to aid identification of blood cells and haemoparasites in the different species commonly seen in private practice and zoological collections. It will assist veterinarians in the identification of normal and abnormal blood cells and in understanding the structural differences of blood cells between the various taxa within the Animal Kingdom. With the help of this guide, readers will be able to understand haemoresponses in the presence of specific and non-specific disease processes and identify haemoparasites commonly seen in blood films from wild and exotic animals. Laboratory Profiles of Small Animal Diseases
This impressively illustrated comparative haematology atlas is unrivalled in its scope, quality and accuracy. It is a must-have for veterinary students, veterinary surgeons working in general and referral veterinary clinical practices, clinicians working in zoological collections and specialists in exotic animal medicine.
I must say, I found it difficult to keep up with their English as I was not familiar with words such as 'wellies' (for Wellington rubber boots) or 'brolly' (for umbrella) or 'lift' (for elevator) or 'let's hit the road' (for let's go) or 'knackered' (for tired). Even now and after all these years, I still do not understand why in the English language you can say 'Mop the floor with a mop' but you cannot say 'Broom the floor with a broom'!
Mike used part of his laboratory to prepare and fix blood films, estimate haemoglobin and haematocrit and carry out the red blood cell and white blood cell counts. The staining of the films and differential counts were all carried out at the Haematology Unit later upon our return. This was the humble beginning of avian and reptilian haematology during the early 1980s that established the cornerstone of normal haematology values and our understanding of haemoresponses to pathological insults in birds and reptiles.
Direct Link For Paid Membership: –