Gastrointestinal Surgical Techniques in Small Animals 1st Edition by Eric Monnet, Daniel D. Smeak April 2020. Gastrointestinal Surgical Techniques in Small Animals offers a highly detailed reference to surgical procedures in the gastrointestinal tract in dogs and cats.
Gastrointestinal Surgical Techniques in Small Animals 1st Edition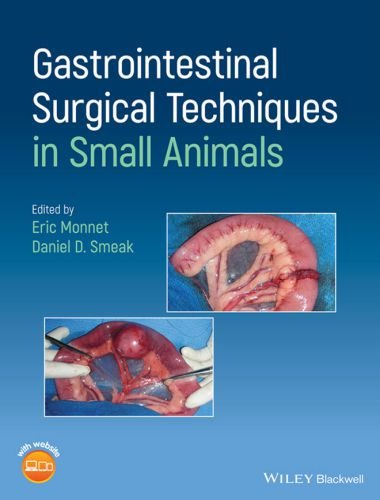 Small animal general surgery has evolved rapidly in the past decade. Procedures have become increasingly complex, including the expansion of minimally invasive surgery options. Gastrointestinal conditions requiring surgical therapy are very common in small animal practice. Therefore, we have created this gastrointestinal surgery textbook to serve as a current and comprehensive reference tool for general practitioners, surgery residents in training, and surgeons.
For each technique described, tips are included by the authors to explain the surgeon's preferences among all the techniques depicted, and to give details to help the reader perform the procedures effectively. Our intent for adding tips was to allow chapter authors the ability to express their preferences in technique, many of which are not evidence‐based.
In this textbook we placed a strong emphasis on description of surgical techniques. We chose not to delve heavily in the pathophysiology or the diagnostic workup for the different surgical conditions mentioned because those topics are well described in other textbooks.
Each chapter describes the surgical techniques in depth, featuring high-quality illustrations depicting each step, and discusses tips and tricks for a successful surgery and potential complications. A companion website offers video clips demonstrating the procedures.
Logically divided into sections by anatomy, each chapter covers indications, contraindications, and decision making for a specific surgery.  Tips and tricks and potential complications are also covered.
Describes techniques for canine and feline gastrointestinal surgery in detail
Presents the state of the art for GI surgery in dogs and cats
Includes access to a companion website with video clips demonstrating techniques
Gastrointestinal Surgical Techniques in Small Animals is an essential resource for small animal surgeons and veterinary residents.
Direct Link For Paid Membership: –
Direct Link For Free Membership: –
| | |
| --- | --- |
| Book Name:  | Gastrointestinal Surgical Techniques |
| File Size:  | 60 MB |
| File Format:  | PDF |
| Download Link:  | Click Here |
| Password: | PDFLibrary.Net (if Required) |