Freshwater Aquariums For Dummies 3rd Edition
---
By Madelaine Francis Heleine, Published: 2019, FileType: PDF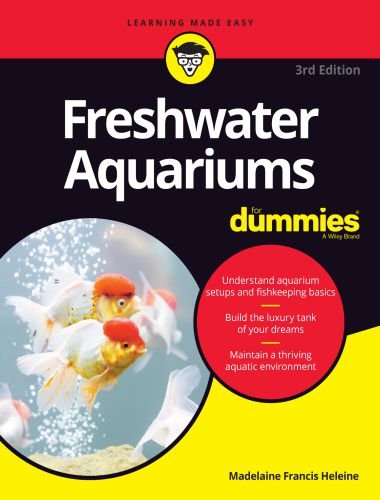 Welcome to the wonderful world of freshwater aquariums! This updated edition of Freshwater Aquariums For Dummies is a handy reference guide for those who want the basics of setting up and maintaining an aquarium system. Everything you need to know to get started on your very own freshwater system can be found right here in this book.
In Freshwater Aquariums For Dummies 3rd Edition, I tell you about tank styles and equipment, disease prevention and cures, aquarium decoration, maintenance routines, species of fish and their habits, test kits for your water, different types of systems, and tips on working with plants. And much, much more. You're likely to encounter all sorts of equipment and different fish species in pet shops and online, but all you need is the information contained in this book to get you started on the road to successful fishkeeping. After you master the basics, you can venture into new areas of aquarium keeping with confidence. The Behavioural Biology of Zoo Animals
So sit back and journey into the fascinating world of freshwater aquariums, gathering the basics of keeping your fish healthy and happy the easy way. Your new aquatic pets will love you for it. You may have heard horror stories about your neighbor's aquarium. Or maybe your best friend told you that his new aquarium that was in his second floor apartment is now decorating the downstairs tenant's apartment. Okay, problems happen, but these rare aquarium misadventures can be avoided with a proper knowledge of the basics.
Direct Link For Paid Membership: –
Direct Link For Free Membership: –
| | |
| --- | --- |
| File Size:  | 27 MB |
| Download Link:  | Click Here |
| Password: | PDFLibrary.Net (if Required) |