Fish Histology, From Cells to Organs, 2nd Edition
---
by Doaa M. Mokhtar, Published: 2021, FileType: PDF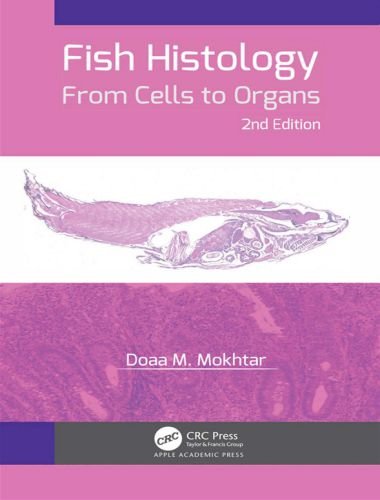 Fish Histology: From Cells to Organs, 2nd Edition provides up-to-date information that emphasizes the relationships and concepts by which cell and tissue structures of fish are inextricably linked with their function. The book also describes the most recent development in the sciences of fish histology.
The first edition of this book was well received, and this updated and improved edition includes five brand new chapters on the skeleton of fishes, gas bladder and gas gland, endocrine system, nervous system, and sensory system. Various staining procedures were used in the second edition to enhance contrasts in samples. As a further aid to learning, many new immunohistochemical and ultrastructural images illustrate the text along with a particular emphasis on tables that summarize the morphologic and functional features of cells, tissues, and organs. The text and images for this edition have been updated with the most current information available at the time of publication.
The volume begins with a concise introduction into the histological techniques for fish sampling, followed by an accurate up-to-date description of fish tissues. A chapter is devoted to each organ and organ systems in the fish body as well. In addition, the book includes over 270 diagrams, photos, and illustrations to elucidate the structure of organs and to enhance the usefulness of the text. Key features:
Provides valuable information on the histology of many species of teleosts

Explores cells at electron microscopic levels

Illustrates the characteristics of tissues and organs of fish with over 270 images, most in color

Highlights advances, trends, and applications in the modern histological techniques and tissue preparations

Focuses on reproductive organs to provide new knowledge on reproductive biology

Includes new five chapters, on the Skeleton of Fish, Gas Bladder and Gas Glands, Endocrine System, Nervous System, and Sensory System, for a more complete coverage of Fish Histology. 
The author has organized the book to present the information in a user-friendly way to facilitate learning and comprehension. The volume is designed for use by students as well as researchers, biologists, ichthyologists, fish farmers, veterinarians working in fisheries and, of course, by comparative histologists who want to learn more about the fish world.
Direct Link For Paid Membership: –