Fascial Anatomy of the Equine Forelimb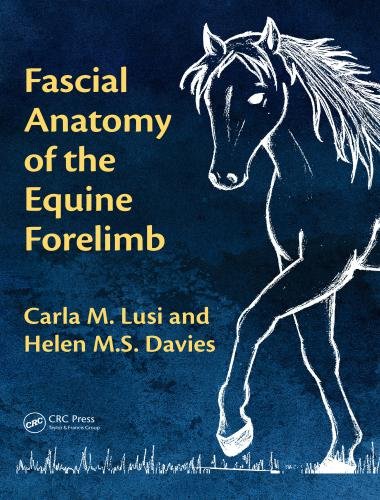 Lusi and Davies have provided an excellent reference resource for students and graduates alike. The number of well-defined, relevant and clear images allow quick understanding for anyone interested in the fascial anatomy of the horse. This small book is perfect to have in your bag, allowing the student or clinician to find all the information they need on-site. – Sophie Neasham, final year veterinary student, University of Veterinary Medicine in Kosice, Slovakia.
The purpose of this book is therefore to provide a visual atlas of the fascial connectivity in the equine forelimb – an area that is commonly fraught with injury in both pleasure and performance horses. In doing so, this work aims to provide both the clinician and the horse owner with a detailed anatomical reference that aids in the understanding and management of forelimb loco-motor problems. In addition, paths of forelimb fascial continuity identified in this book provide a foundation for further studies of fascial continuity beyond the forelimb.
Key features:
The first book in equine anatomy to illustrate the fascial (soft connective tissue) connections of the equine forelimb.
Clear, high-quality images (with reference images included on each page) help readers identify aspects of the limb photographed.
A brief introduction to the forelimb musculoskeletal anatomy (with images) helps readers familiarize themselves with muscles and bones portrayed in photographs.
Focused discussions highlight the practical applicability of the fascial connections illustrated.
Accompanying video clips demonstrate connectivity of the fascial system particular lines of tension.
The first of its kind in equine anatomy, this clear, concise anatomical guide illustrates the fascial (soft connective tissue) connections of the equine forelimb. Based on dissections of fresh equine cadaver limbs, it provides a visual map for equine physical therapists, veterinarians and horse riders, helping them to understand how pathologies, injuries, or movement abnormalities of the equine forelimb arise and/or progress from one area of the limb to another.
The fascial system is one of the primary systems acted upon by equine physiotherapists and is of increasing interest to horse riders looking to achieve structural integration and balanced movement in their horse. With this in mind, key points in each chapter highlight everyday situations in which knowledge of the fascial system may assist in understanding horse movement and injury.
This practically applicable anatomical atlas is the ideal reference for horse owners, body workers and veterinarians alike.
Direct Link For Paid Membership: –
Direct Link For Free Membership: –
| | |
| --- | --- |
| File Size:  | 83 MB |
| Download Link:  | Click Here |
| Password: | PDFLibrary.Net (if Required) |