Equine Anesthesia and Co-Existing Disease 1st Edition
---
by Stuart Clark-Price, Khursheed Mama, Published: 2022, FileType: PDF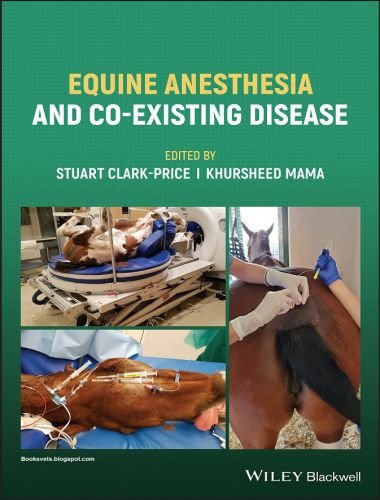 The first book covering anesthesia in equine patients with pre-existing diseases or conditions, Equine Anesthesia and Co-Existing Disease 1st Edition offers practical guidance on anesthetizing horses with pre-existing diseases or other unique conditions. Filling a significant gap in available literature, this authoritative reference is the ideal companion to existing publications on basic management principles, equipment, and complications in equine anesthesia. Detailed chapters, co-authored by anesthesiologists and other allied specialists, offer a body-system approach to anesthesia considerations in horses presenting with a variety of disease conditions.
Each chapter contains foundational knowledge such as pathophysiology or diagnostic techniques, clinical images, practical information for pharmacologic selection, and technical requirements for completion of procedures. The text covers equine anesthesia management relevant to respiratory, neuromuscular, and gastrointestinal diseases, cardiac and orthopedic procedures, diagnostic imaging and unique therapies, and more. Designed to allow quick and easy reference to vital information, this valuable clinical resource:
Provides complete coverage of anesthetic management of horses with existing conditions or diseases
Describes how pre-existing conditions can affect anesthesia in equine patients
Includes coverage of accident and error management, induction, and recovery
Discusses how anesthesia management differs in feral or non-domesticated and domesticated equids including donkeys and mules
Equine Anesthesia and Co-Existing Disease is a must-have reference and clinical guide for everyone involved in the anesthetization of equine patients, including equine general practitioners, anesthesiologists, specialists in related areas, residents in veterinary anesthesiology, and equine anesthesia technicians.
Textbooks solely dedicated to veterinary anesthesia became widely available in the early 1960s, and many have been published since. More recent textbooks contain detailed information on clinical disease and management of small animal patients with specific conditions. A few excellent books related to anesthetic management of equine patients have also been published. However, there are no comprehensive textbooks addressing anesthetic management of horses for specific surgical procedures and diseases. The editors are excited to present this book, which aims to fill that void by providing both a review of the pathogenesis of specific diseases, and procedural considerations relevant to equine anesthesia management.
Direct Link For Paid Membership: –
Direct Link