Comparative Medicine: Disorders Linking Humans with Their Animals
---
 By Erika Jensen-Jarolim, Published: 2017, FileType: PDF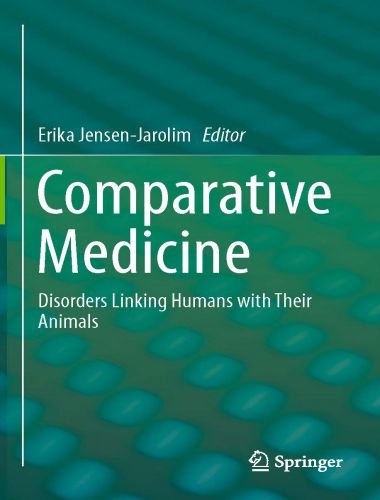 This book highlights the most significant diseases for humans and their dogs, cats and horses. The examples discussed, which include allergies, osteoporosis, cancer and many more, illustrate that humans and their companion animals may in fact develop similar diseases.
The reader – whether expert or interested lay – can thus directly compare between human and animal patients. The animal patient thereby represents a natural disease model, which besides the experimental models, is urgently needed to improve the therapeutic options for both humans and animals.
Based on the great interest in our first book Comparative Medicine: Anatomy and Physiology, I felt encouraged to continue the enterprise. The present book is the result of our passionate research on selected diseases occurring in humans and their animals. In most cases, we found the common principles in disease mechanisms, diagnosis and therapy, among dogs, cats, horses, and humans, truly striking. The chapters on legal and ethical aspects of medicine with and for animals complete the picture.
With Comparative Medicine: Disorders Linking Humans with Their Animals, we thus aim to contribute to the indispensable dialogue among the medical disciplines. Our intention was to collect the latest state of the art for clinician and scientist to create a book useful for studying and teaching, but also enjoyable for interested lay people and animal owners.
Direct Link For Paid Membership: –
Direct Link For Free Membership: –
| | |
| --- | --- |
| File Size:  | 6 MB |
| Download Link:  | Click Here |
| Password: | PDFLibrary.Net (if Required) |