Color Atlas of Veterinary Histology 3rd Edition
---
 by William J. Bacha, Linda M. Bacha 
June 2012
Designed to provide students with a foundation in understanding and interpreting histologic and cytologic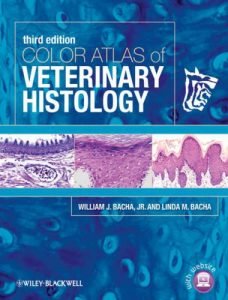 preparations, 
Color Atlas of Veterinary Histology
 is a practical benchside reference focusing on the normal histology of eight common domestic species. This 
Third Edition
 has been revised with new images, information, and updated terminology throughout. Introductory chapters have also been expanded to offer more complete coverage of the basic types of tissues, providing an even more thorough grounding in the principles of histology.
For the first time, the more than 900 photomicrographs are available digitally in an interactive atlas on CD, offering images available for download with zoom capability.  The new edition of this veterinary-specific histology atlas provides veterinary and veterinary technician students with an essential pictorial resource for interpreting histologic preparations.
It is our hope that students and researchers will continue to find this atlas a useful resource. In this edition, we have expanded many of the beginning chapters that introduce the basic types of tissues to provide the user with a stronger foundation in histology. The glossary has been expanded, and other extras have been included that we hope will be valuable.
Download: Introduction to Veterinary Genetics 3rd Edition
Once again, many thanks to all of those who have made the first and second edition of our atlas possible! We were able to prepare our page layouts for the third edition thanks to the scanner given to us by Aunt Lila and Uncle Jack McKean and Lola and Chip Wood. Thanks to Jessie Bacha for proofreading our work, and to Tristan Bacha for keeping busy while we worked! We greatly appreciate the helpful suggestions from Professor Nancy Gartland and the students at the University Of Pennsylvania School of Veterinary Medicine, and from reviewers and users of the previous edition. Finally, thanks to Nancy Turner, Erica Judisch, Tracy Petersen, Erin Magnani, and all of the other people at Wiley-Blackwell for their role in the production of this edition.
Direct Link For Paid Membership: –
Direct Link For Free Membership: –
| | |
| --- | --- |
| File Size:  | 110 MB |
| Download Link:  | Click Here |
| Password: | PDFLibrary.Net (if Required) |
0p/