Clinical Pharmacology and Therapeutics for Veterinary Technicians 4th Edition
---
by Robert L. Bill, Published October 13, 2016, File Type: PDF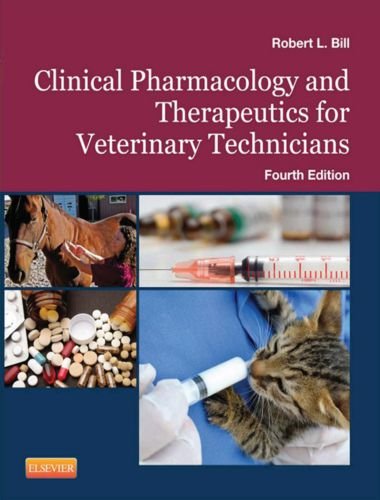 The expectations for today's veterinary technician in terms of the technician's level of performance, degree of medical understanding, and ability to make independent decisions are different than for the technician we educated 10 or 15 years ago.
When the profession began, the primary role of the veterinary technician was to be an extension of the veterinarian's hands, and therefore the technician was used primarily for completing manual procedures and tasks.
Grasp complex concepts and develop fundamental knowledge in the rapidly changing field of veterinary pharmacology with Clinical Pharmacology and Therapeutics for Veterinary Technicians, 4th Edition. This accessible, comprehensive text explains how drugs work so you can confidently communicate with clients about current drug therapies. Featuring up-to-date drug information and a new full-color design with added illustrations, tables, and boxes, this thorough resource covers drug uses, abuses, calculation errors, and mistakes.
Covers complex principles of pharmacology in a manner appropriate for both veterinary technicians and students.
Provides strong introductory content on safety, terminology, pharmacy procedures, drug handling (including the latest OSHA requirements), dosage calculations, and pharmacokinetics.
Emphasizes the reasons behind drug properties, actions, and effects ― not just lists of facts.
Valuable clinical applications are interspersed throughout every chapter, and concepts are linked to real-life situations to help reinforce learning.
Critical thinking and review questions at the end of every chapter help you test comprehension.
UPDATED and NEW! The most up-to-date information on all drug categories and new content on several drugs.
NEW! Full-color format with photos and line drawings helps visual learners understand concepts and enhances images' educational value.
NEW! Myths and Misconceptions, Ask Dr. Bill, and You Need to Know boxes break up the narrative and spotlight interesting concepts to make information easier to understand.
NEW! Evolve site with instructor resources, including PowerPoint presentations, test bank questions and answers, an image collection, the answer keys to each chapter's self-assessment questions, and drug calculation practice exercises.
NEW! Vet Tech Threads design includes key terms, chapter outlines, and learning objectives, as well as other pedagogical features, to help you grasp key content and navigate through the chapters.
Like its predecessors, this edition provides understandable explanations of the "how" and "why" behind drugs,
their actions, their mechanisms, and their problems. In this fourth edition, all drug groups have been updated to reflect changes in both the therapeutic agents themselves and the medical philosophies that determine how these drugs are used in different species. Download: Small Animal Pathology for Veterinary Technicians
The self-assessment test questions at the end of the chapters also provide an excellent review of pharmacology and therapeutic knowledge for certification examinations. A convenient answer key for all of the questions is included to assist in the reader's review of the content and for self-testing.