Calving Management and Newborn Calf Care 1st Edition
---
by João Simões, George Stilwell, Published: 2021, FileType: PDF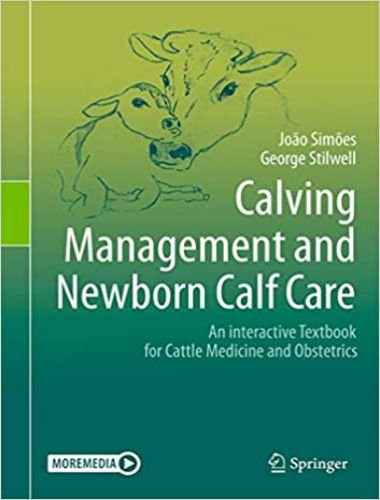 This comprehensive textbook provides detailed information on calving management in dairy and beef cattle. Enriched with diverse learning opportunities, it conveys the fundamentals of reproductive anatomy and physiology, parturition, birth complications and various obstetrical manoeuvres, as well as dam and calf care. In order to promote best practices in this specialized subject, the book covers all significant points from conception to calving and the perinatal period. Clear chapter structures, a wealth of illustrations and videos, obstetrical case studies, and question-and-answer lists round out the reading experience, making the book a unique source of information on how to support mother cows and obtain viable offspring. Readers can additionally download the free Springer Nature Flashcards App and benefit from 77 digital study questions to test their knowledge.
The reproductive health status in cattle farms is crucial to immediately initiate lactation and new conception. Assistance by technical personnel, dystocia and stillbirth occurrences can reach ca. 50%, 14% and 6% of parturitions, respectively. Hence, zootechnical and veterinary management of calving is of great importance for animal welfare.
This work makes a valuable contribution to teaching and everyday practice in cattle medicine and obstetrics. Veterinary students, residents, practitioners and technical personnel will discover it to be a rich learning and reference resource. Animal Reproduction in Veterinary Medicine
"For many years, animal health and welfare has been an increasingly important part of animal science and livestock production. One reason for this is that it has a very significant impact on the acceptance of livestock production systems by consumers and the economic success of farms. It is important to note that, most of the time, farmers are confronted first with animal health problems, even before the veterinarians. Normally the 'first aid' like calving assistance, including moderate dystocias, is performed by people working on farms or by related professionals.
Therefore it is essential that also these people have the best knowledge to better know the different steps of all related processes, to be able to implement the best management plans (e.g. for calving) and to use the best available practices. Only this can assure the highest possible level of animal welfare and health. The book by João Simões and George Stilwell is therefore highly recommended for teachers and students of animal science, and for practitioners looking to acquire profound knowledge on the subject of 'healthy calving', i.e., unassisted calving where dam and calf can express their full natural behaviour. As such, I wish the book every success."
Direct Link For Paid Membership: –
Direct Link For Free Membership: –
| | |
| --- | --- |
| Book Name:  | Calving Management and Newborn Calf Care 1st Edition |
| File Size:  | 25 MB |
| File Format:  | PDF |
| Download Link:  | Click Here |
| Password: | PDFLibrary.Net (if Required) |