Bovine Endoscopy
---
By Sotirios Karvountzis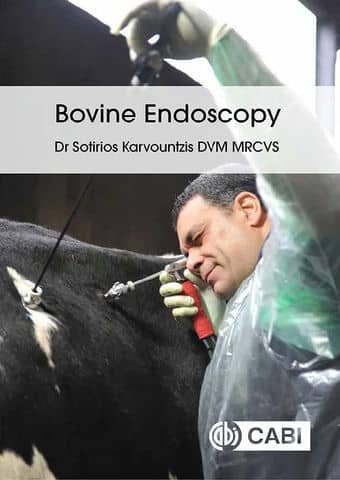 Bovine Endoscopy, Endoscopic applications are recognised and well-established techniques in human surgery, where a variety of procedures are performed routinely. A less intrusive and labour demanding process than surgery, these procedures have great potential for use in veterinary medicine.
They allow a quicker clinical recovery, minimal intrusion and risk of bacterial exposure, and a lower mortality than conventional surgical options. Beginning with an introduction to the topic and an overview of bovine anatomy, this book then discusses both mainstream and experimental applications of endoscopy in cattle. It covers: – Practical advice on preparing for the procedure and patient restraint;- Techniques including LDA corrections, RDA corrections, exploratory laparoscopy, exploratory thoracoscopy, theloscopy and umbilical hernia corrections;- Post-operative care to allow the animal to rejoin the herd at the next milking, whenever possible.
Written in a practical and accessible style for veterinary practitioners and students, the book provides a thorough and complete introduction to the exciting new field of bovine endoscopy.
Introducing endoscopic techniques revolutionizes applications of bovine medicine by facilitating farm animal veterinary surgeons to examine, establish a diagnosis and treat various conditions without the need for open and intrusive surgery.
Direct Link For Paid Membership: –