Body MDCT in Small Animals : Basic Principles, Technology, and Clinical Applications
---
By Bertolini, Giovanna, Published: 2017, FileType: PDF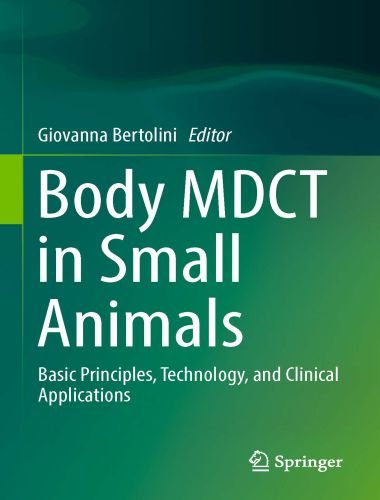 This book is an up-to-date, technically detailed yet easy-to-read reference book on current clinical applications of MDCT in small animals. It has been designed to serve as the reference book for all MDCT-users, such as veterinary radiologists, imaging technicians, oncologists, surgeons, and non-radiologist clinicians. Individual chapters on novel clinically important topics include applications in endocrinology, oncology, trauma, and cardiovascular CT, as well as sections on organ-specific pathologies and their CT characteristics.
The book will also cover main domains of CT, such as thorax and the trauma imaging. Anatomy, clinical aspects, pathology, and CT signs are integrated to provide the reader with the basis for interpretation of MDCT findings. Many excellent 2D multiplanar and 3D figures illustrating typical CT findings of various conditions will serve as a clinical reference for the reader.
Intended primarily for radiologists and radiologists in training, the book also could benefit imaging technicians, as it covers imaging protocols with detailed information on angiographic studies. This book brings an innovative and needed approach to reviewing computed tomography in veterinary medicine and is written in a clear and organized manner. The very large number of high‐quality images as well as the detailed information on angiographic studies and vascular diseases make this book unique.
The book has seven sections, divided into 21 chapters, and over 600 images. The first chapter introduces the MDCT technique and its technological evolution. This knowledge is essential for understanding the notable differences among various MDCT scanners in terms of their capabilities and possible applications. Nowadays, with the availability of rapid MDCT scanners, standard MDCT examinations have the potential to serve as CT angiographies. For this reason, the second chapter describes the general principles of MDCT angiography in dogs and cats. The rest of the book encompasses major pathological conditions seen within abdominal and thoracic structures in dogs and cats and includes the most recent MDCT applications, such as cardiac CT and the potential for dual-energy CT.
Direct Link For Paid Membership: –
Direct Link For Free Membership: –
| | |
| --- | --- |
| Book Name:  | Body MDCT in Small Animals |
| File Size:  | 29.8 MB |
| File Format:  | PDF |
| Download Link:  | Click Here |
| Password: | PDFLibrary.Net (if Required) |