Aspinall's Complete Textbook of Veterinary Nursing 3rd Edition
---
By Nicola Ackerman, Victoria Aspinall, Year 2016, FileType: PDF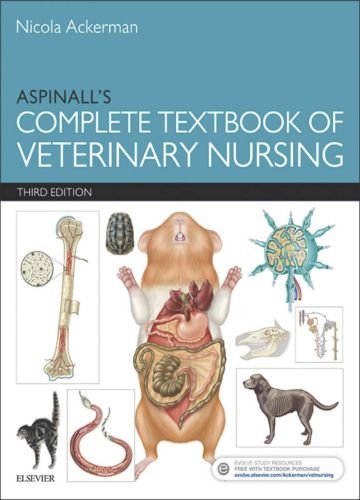 The third edition of Aspinall's Complete Textbook of Veterinary Nursing is the ideal text for both student and qualified veterinary nurses as it covers the entire veterinary nursing syllabus. Now written in the main by veterinary nurses this book comprehensively covers all aspects of the veterinary nursing role from client communication to nutritional support. Get More: Essential Calculations for Veterinary Nurses and Technicians 3rd Edition
All chapters have been revised in line with changes in legislation and regulation, but also theoretical and practical aspects. Greater emphasis on the veterinary practice structure including the role of corporate businesses and use of social media bring this edition fully up to date.
Aspinall's Complete Textbook of Veterinary Nursing is a text-book that has really evolved alongside the profession. Written (mainly) by veterinary nurses for veterinary nurses that are working on the 'front line' in first and second opinion practices, the aim was to try and encompass the many different aspects that veterinary nurses currently undertake, from client communication in clinics through to emergency critical care and everything in-between. The role of aspects such as nursing clinics and emergency and critical care (ECC) nurses has shown how greatly the profession has changed, even since the last edition, and I have tried to reflect this in the additional chapters that have been included and the 'Emergency and Intensive Critical Care' chapter that has greatly evolved from the original First Aid chapter. The importance of fluid therapy and nutritional support of the critical patient has also developed into a chapter of its own. The importance of bandaging and different techniques has also been included in order to help serve as a reminder, or teaching aid, for VNS.
The new edition welcomes Nicola Ackerman as principal editor. Nicola is past officer of the BVNA and editor of the Veterinary Nursing Journal, and is currently the chair of The Pet Obesity Taskforce. Nicola is a winner of several awards including the Blue Cross/BVNA Veterinary Nurse of the Year 2010. Nicola was the first Veterinary Nurse in the UK to become a veterinary nurse specialist in nutrition.
Comprehensive content ideal for both student and qualified veterinary nurses
Over 700 full colour illustrations for enhanced understanding
Written by veterinary nurses for veterinary nurses
Recommended reading given for each chapter to aid further research
Evolve Resources containing
Self-assessment questions for every chapter to test learning
Image Bank of over 700 figures
New chapters on Emergency Critical care, Fluid therapy, Practice and Staff management and Consulting skills.
Anaesthesia and Analgesia chapter fully revised and updated.
New chapter on Equine Behaviour and Handling, including recognition of pain in equines.