Applied and Economic Zoology
---
by Dinesh Kumar, Naznee Ashok, Kumar Rathoure, Published: 2015, FileType: PDF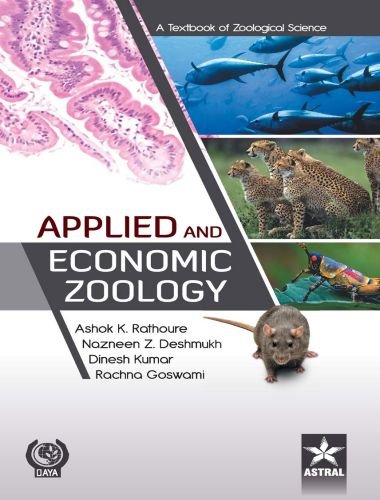 Recently Applied and Economic Zoology has been included in national syllabus by UGC for undergraduates. The book examines insect pests, animal pests, natural enemies, beneficial insects, beneficial animals, agricultural chemicals and more. The current book is blueprint for undergraduate students to aware about our natural wild life and its economic importance. The book contains four chapters with illustrations and boxed materials.
n the chapter 1, we have covered parasitology, in which we have deliberately discussed about parasites of domestic animals and human, structures, life cycles, pathogenicity, diseases, symptoms and it control. In chapter 2, we consciously talk about vectors and pests. Here, we covered life cycle and control of pest and vectors such as Gundhi bug, Sugarcane leafhopper, Rodents, Termites and Mosquitoes. Zoology: Inside the Secret World of Animals
Chapter 3 is about animal breeding and animal cultures. In this, we stared with basic introduction about breeding and culture, difference between them and then detailed discussion about Animals and Human Society, Animal Breeding, Genetic engineering applications in Animal Breeding, Breeding and Variation, Aquaculture, Pisciculture, Poultry farming, Sericulture, Apiculture, Lac-culture. The last chapter has wild life of India. In this chapter we provided detail for Wild Life Protection and Acts, Documentation of Wild Life, Rare, Endangered and Endemic species, Protected Area Network, Conservation of Wild Life, In-situ and Ex-situ conservation.
Direct Link For Paid Membership: –