This is a handbook that clearly describes anatomy, preparation of the site, management of the horse, techniques, inyection strategies and complications. All illustrations explain every technique to successfully achieve the blocking of the nerves required.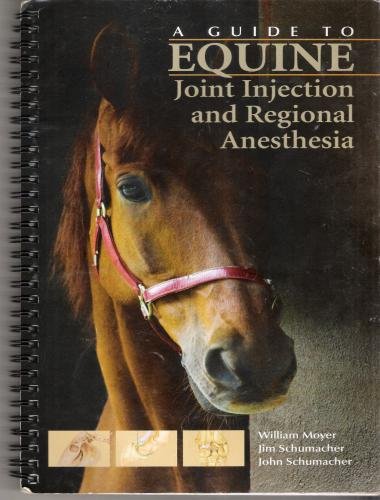 The new edition of Equine Joint Injection and Regional Anesthesia is a MUST-HAVE for all equine veterinarians and veterinary students and remains the beloved, invaluable tool for veterinarians working in the field and the referral hospital. This comprehensive and easy-to-use new edition, written by three well-known experts, has been expanded to include many new chapters, step-by-step photos and computer-generated images created by an equine anatomist to provide accurate, detailed depictions of equine anatomy.
Moyer and Schumacher's A GUIDE TO EQUINE JOINT INJECTION AND REGIONAL ANESTHESIA new (2007) edition updates and expands techniques for joint injection therapy at no less than 15 sites (including the back and mandible), and is doubled in size by the addition of a complete manual on regional diagnostic anesthesia.
PART 1: JOINT INJECTION: Introduction and Uses; Preparation of the Site; Management of the Horse; General Technique; Injection Strategies; Complications; SITES: Coffin (Dorsal, Perpendicular; Dorsal, Parallel; Lateral); Navicular Bursa; Pastern (Dorsal, Palmar/Plantar); Fetlock (Palmar/Plantar Pouch, Collateral Sesamoidean, Dorsal); Digital Synovial Sheath; Carpus (Dorsal, Lateral); Elbow (Lateral , Caudal); Shoulder; Bicipital Bursa (Distal, Proximal); Hock (Tarsometatarsal, Distal Intertarsal, Tibiotarsal); Stifle (Femoropatellar – Cranial, Femoropatellar – Lateral , Femorotibial – Lateral & Medial, Femorotibial – Medial, Compartment – Medial, Outpouching); Hip; Sacroiliac Joint; Cervical Facet Joint; Temporomandibular Joint; References.
PART 2: REGIONAL NERVE BLOCKS: Introduction and Uses; Preparation of the Site; Management of theHorse; General Technique; Forelimb Nerve Blocks; Hindlimb Nerve Blocks; Injection Strategies; Complications; Forelimb Nerve Blocks (Palmar Digital Nerve, Pastern Semi-Ring, Abaxial Sesamoid, Low Palmar, High Palmar, Lateral Palmar, Median, Ulnar, and Medial, Cutaneous Antebrachial); Hindlimb Nerve Blocks (High Plantar, Tibial and Peroneal -Fibular; Other Nerve Blocks (Maxillary, Infraorbital, Mandibular, Mental, Pudendal), References, About the authors.
Direct Link For Paid Membership: –
Direct Link For Free Membership: –
| | |
| --- | --- |
| Book Name:  | A Guide to Equine Joint Injection and Regional Anesthesia |
| File Size:  | 45.3 MB |
| File Format:  | PDF |
| Download Link:  | Click Here |
| Password: | PDFLibrary.Net (if Required) |