Veterinary Oral and Maxillofacial Pathology
---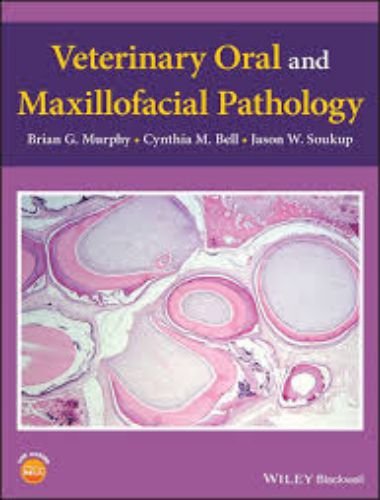 Veterinary Oral and Maxillofacial Pathology focuses on methods for establishing a diagnosis and set of differential diagnoses. Provides the only text dedicated solely to veterinary oral and maxillofacial pathology Guides the pathologist through the thought process of diagnosing oral and maxillofacial lesions Focuses on mammalian companion animals, including dogs, cats and horses, with some coverage of ruminants, camelids, and laboratory animal species Features access to video clips narrating the process of histological diagnosis on a companion website.
This book is an attempt to address a perceived deficiency in the veterinary pathology literature and to provide a cur-rent and useful resource for diagnostic veterinary pathologists, veterinary dentists, oral surgeons, resident trainees and others with an interest in oral and maxillofacial pathology of veterinary species.
The text is focused on methods for establishing a diagnosis and set of differential diagnoses. Many oral lesions are unique (tooth‐related lesions, fibrous lesions of the oral mucosa and jaws), and have their own nomenclature and embryologically informed pathogenesis. These lesions can be confusing to the non‐specialist and are a central focus of this work. Download: Differential Diagnosis in Small Animal Medicine
Differential diagnoses for each lesion are a prominent feature of the text and expose the philosophy that lesion classification in oral pathology is ever‐ evolving. As much as possible, we have attempted to be up front with the reader concerning the often considerable ambiguity and morphologic overlap of oral lesion classification. The importance of a multi‐modal approach to lesion classification is stressed throughout.
We have attempted to directly address the controversies over lesion taxonomy and relationships between lesions, pathogenesis, and lesion nomenclature, and to not ignore or obfuscate these issues. Although examples of oral lesions are drawn from diverse species, the principal focus is on mammalian companion animals (dog, cat, horse) with less of an emphasis on ruminants, camelids and laboratory animal species (primate, rodent and rabbit).
Each chapter stresses the importance of a holistic approach in establishing a meaningful diagnosis, taking into consideration the patient signalment, lesion history, the often invaluable opinion of the submitting clinician, pre‐biopsy imaging findings, and gross features of lesions, in addition to the histological features of the submitted specimen.
In an attempt to clarify what is often perceived as an impenetrable subspecialty of veterinary pathology, the text has been richly illustrated with relevant radiographs, clinical, gross and histologic images (including special stains and IHC), as well as line drawings and diagrams. Key gross and histologic features, along with differential diagnoses to consider, have been provided for each lesion.
Although the focus of this work is on the establishment of a diagnosis and differential diagnoses, information has also been provided on lesion pathogenesis, prognosis, and treatment. It is not the goal of the authors to cover all of the oral and maxillofacial lesions which have been heretofore described in domestic animals, but rather to focus on com-plex and unique oral lesions, as well as those that a diagnostic veterinary pathologist would likely encounter in a surgical biopsy practice.
It is important for the pathologist to recognize that what they see from day‐to‐day in their practice, even a busy specialist practice, may not represent the diversity of actual maxillofacial/oral pathology that occurs in veterinary species. Pathologists have a window on a subset of disease‐ those lesions that get biopsied or are present at the time of the animal's death (discovered during the necropsy examination).
Direct Link For Paid Membership: –
Direct Link For Free Membership: –
| | |
| --- | --- |
| Book Name:  | Veterinary Oral and Maxillofacial Pathology |
| File Size:  | 21.8 MB |
| File Format:  | PDF |
| Download Link:  | Click Here |
| Password: | PDFLibrary.Net (if Required) |