Veterinary Ophthalmic Surgery PDF. Purchasers of Veterinary Ophthalmic Surgery have at their disposal a comprehensive, step-by-step guide with instruments to all types of ophthalmic surgical techniques across all species.
Veterinary Ophthalmic Surgery PDF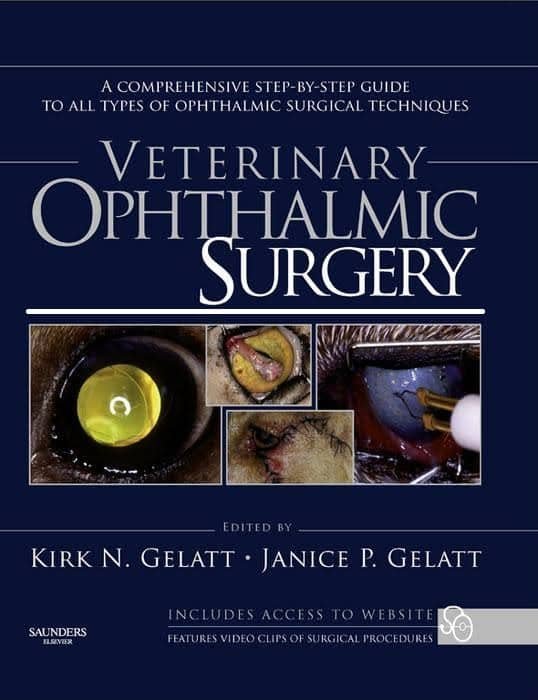 Techniques are covered topographically, and species-by-species, with difficulty gradings for each one. Many of these procedures will be undertaken by the veterinary generalist, not only the specialized ophthalmologist. Nearly 1,000 large-sized illustrations, 750 of them in full colour, allow the practitioner to follow the techniques step-by-step. Internationally recognized as an authority on small animal ophthalmic surgery, Dr Gelatt is joined by expert contributors who together provide authoritative and definitive solutions to practitioners' eye surgery requirements. Whatever your field of specialism, this is the only eye surgery book you are ever likely to need. For: residents in veterinary ophthalmology; general, small animal, and equine veterinary practitioners; veterinary ophthalmologists; veterinary medicine students.  -Comprehensive coverage of all species -Lavishly illustrated sequenced figures of all procedures -Step-by-step approach for maximum clarity -A superb collection of online video clips gives clarification of the most common procedures -The only ophthalmic surgery text for veterinarians.
Most current information on ophthalmic surgery has been published in comprehensive veterinary ophthalmology texts, and in the crush for space, descriptions are limited to brief summaries of the actual surgical techniques. Since 1994, our Handbook of Small Animal Ophthalmic Surgery (Volumes 1 and 2) and subsequent single text, Small Animal Ophthalmic Surgery, are the only textbooks devoted to eye surgery in animals. Only these ophthalmic surgery textbooks focus on all the dimensions of small animal ophthalmic surgery, stressing the pre-, intra-, and postoperative details.
This text, Veterinary Ophthalmic Surgery, consists of all of the different types of extraocular and intraocular surgical procedures that are utilized by veterinarians and veterinary ophthalmologists. The base or model species for all of the surgical procedures is the most popular small animal species presented to veterinarians worldwide – the dog and cat. In addition, in each chapter, special sections are devoted to large animals and special species to describe any modifications of these procedures as well as possible new techniques that have evolved to these species. A considerable amount of this new information is on the equine species.
Direct Link For Paid Membership: –
Direct Link For Free Membership: –
| | |
| --- | --- |
| File Size:  | 180 MB |
| Download Link:  | Click Here |
| Password: | PDFLibrary.Net (if Required) |