Veterinary Acupuncture was brought to the attention of the western world in the early 1970s through newspaper accounts, magazine articles, and movies made by people visiting China.
Veterinary Acupuncture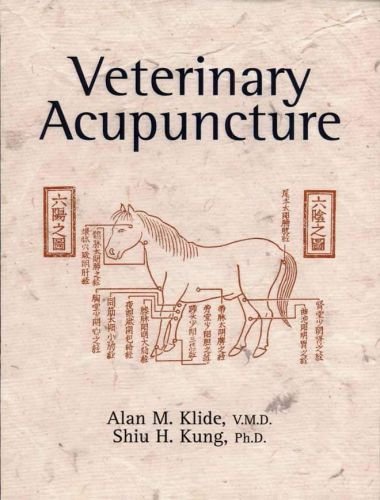 Discussions about acupuncture were occurring daily. The techniques, equipment and theories concerning this ancient practice were difficult to understand or believe. Many people began promoting acupuncture as a panacea for the ills of the world.
At present, the wave of intense interest has passed studies from the very basic to completely clinical have been started; some are just beginning to be reported. Many of the studies are providing much needed information in pain control and pain mechanisms. People have been helped by acupuncture therapy who were not being successfully treated by standard medical means; others have been hurt physically, emotionally, and economically by people who offered claims for acupuncture that were unfounded, or by people who were not qualified to administer acupuncture therapy. Much more work must be done before the value of acupuncture as a treatment or method of analgesia can be known with any degree of certainty.
It is the authors' intent to provide a book that presents the available world's information on acupuncture in animals: to make available a starting point from which basic or clinical investigators can begin to devise studies for sorting out the riddle of acupuncture; to make available to animal owners the information on this subject that will help them to better understand acupuncture and the possible benefits it may offer their animals; to make available a source from which veterinarians can find out what has been done in the theory and practice of veterinary acupuncture. We hope the book will be informative
Many sources of information were used for this book: the English literature; the newsletters and pamphlets of the International Veterinary Acupuncture Society and the National Association for Veterinary Acupuncture; case reports from members of the International Veterinary Acupuncture Society; charts and information from various authors and publishers; the clinical and research experience of Dr. Klide; equipment manufacturers' brochures and letters; translations of Chinese, French, German, and Japanese books, chapters, and journal articles; and a Chinese veterinary handbook.
Most of the translated material is presented "as is" so that the reader can get the feeling and flavor of the material as it was originally written. Transliterating, or "Romanizing," of Chinese characters presents a particular problem in that there are several transliterating systems, each producing words that are spelled differently. The system used in this book is Wade Giles, a British system that is the most widely accepted and is used for catalogues in most libraries in the English-speaking world.
Direct Link For Paid Membership: –
Direct Link For Free Membership: –
| | |
| --- | --- |
| Book Name:  | Veterinary Acupuncture |
| File Size:  | 13 MB |
| File Format:  | PDF |
| Download Link:  | Click Here |
| Password: | PDFLibrary.Net (if Required) |